Two-day conference: Materiality, Gender and Sensemaking
Religion and Secularity in Everyday Life
On Tuesday 10 and Wednesday 11 May 2022, the Centre for Religion, Health and Wellbeing organizes a two-day conference:
'Materiality, Gender and Sensemaking: Religion and Secularity in Everyday Life'


Organizing committee: Eline Huygens, Nella van den Brandt, and Jelle Wiering
When: 10 & 11 May, 2022
Where: Faculty of Theology and Religious Studies, Oude Boteringestraat 38, 9712 GK, Groningen, the Netherlands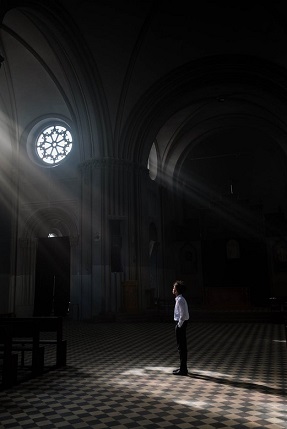 About
Everyday settings, discourses and bodies are continuously in transformation – and this pertains also to practices of religion, spirituality, non-religion, and secularity . This conference therefore asks how religion is embodied and practiced in transformative everyday settings. Inspired by the turn towards lived religion in religious studies (e.g. McGuire 2008), we want to bring the notion of lived religion in conversation with three different topics: i) material religion; ii) gender and religion; iii) sensemaking. These three topics emerge from a threefold aim: first, this conference wants to present various accounts of how religion is understood, materialized and lived by various individuals and communities. Secondly, it explores how this takes place in everyday activities such as sexuality, work, education, sports, as well as through gendered ways of being in the world. Finally, by employing bottom up research approaches, the conference pleads for conceptualizations of religion that take seriously what is happening in everyday life understandings, practices and forms of embodiment, but always in relation to larger historical and sociopolitical discourses and realities.
The three conference topics will be introduced on Day 1 of the conference by three lecturers who have showed the relevance of including these lenses in their work: David Geiringer (Queen Mary University of London), Katie Gaddini (University College London), and Mark de Rond (University of Cambridge, UK). Each theme corresponds to a panel at Day 2 of the conference, in which scholars are invited to present their current work.
The first lens will thus be geared towards religion and materiality. During the last couple of years, a body of scholarship has revolved around the issue of how religion becomes materialized in the arrangement of, among other things, icons, photographs, images, and particular constellations of time and space. This so-called 'material turn' in religious studies has directed attention to not only these concrete and tangible objects, but also the embodied practices that go hand in hand with them. How are material objects integrated within a religious lifestyle? How are they fashioned in a religious and sacred manner, e.g. by prayer, rituals, ceremonies, and so forth? How can these objects – and the related practices – reveal more insights into how the private sphere is made sacred? This panel aims to address these questions, by taking embodiment and materiality as starting points. In particular, this panel aims to make an intervention into the field of material religion by taking intersectionality explicitly into account. While the field of material religion has yielded relevant research, it does not always pay attention to the role played by the intersections of various identity markers. In particular, this panel welcomes paper proposals who explore material religion in relation to gender, sexuality, disability, race, ethnicity.
A second focus will be religion and gender. During the last decades, a lot of attention has been paid in the field of religion and gender to the study of the various types of religious subjectivity, agency and piety shaped by women, LGBTQ persons and young people belonging to a wide variety of religious traditions and communities. What seems to be a new topic is the ways in which women, LGBTQ persons and young people struggle to remain faithful, fail to practice the tenets of their religion and/or cease to find meaning in being part of the tradition or community they belong to. What does it mean to leave behind a devout faith and community? What are the stories of faith, community, isolation and loss that need to be told and analyzed? The panel welcomes paper proposals that explore the struggle to stay or leave as related to issues of gender, sexuality, disability, ethnicity and race.
The third and final lens of the conference will focus on sensemaking. It aspires to explore people's phenomenological accounts of everyday life. How do people make sense of the world around them, and how do they find meaning in the life they live? How are the senses involved in these processes of sensemaking and meaning making? How is sense made, and how is it related to everyday activities such as work or sports? How do particular everyday experiences of meaning making draw on a particular attuning of embodied configurations? On particular conceptualizations of smelling, hearing, seeing, tasting, touching, and perhaps other ways of sensing? How is the process of making sense of the world related to religious or nonreligious practices that cultivate particular interpretations of experience? Posing these questions, the papers in this panel aspire to obtain a better understanding of how people make sense in and through their everyday activities.
| | |
| --- | --- |
| Last modified: | 10 May 2022 10.52 a.m. |