ESA-RN34 Sociology of Religion Conference Groningen (online) 2022
"Religion in an unstable world: Challenges, transformations and future prospects"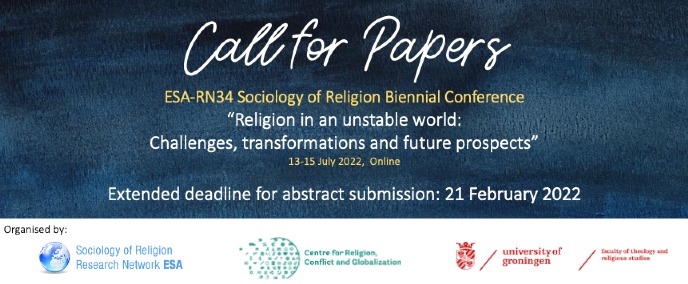 Religion is often depicted as an anchor in an unstable world: amidst uncertainties, it offers community, guidance, consolation, or hope. However, the role of religion and its place in society also changes. Religious institutions and communities face uncertainties related to climate change and the environmental crisis (Schipper, E.L.F., Eriksen, S.E., Fernandez Carril, L.R., et al., 2020): for instance, in 2015 Pope Francis published an encyclical Laudato Si' addressing the issue and commenting on the role of the Roman Catholic Church in its ethical and moral dimension, and in 2021, along with numerous other religious leaders, drafted a document to be presented at the COP26 Summit. Furthermore, the rise of right-wing populism and authoritarian rules throughout the world raises questions about the role religion plays - or should play – in these contexts, especially regarding political involvement of the clergy or defending civil and human rights (Haynes, 2021; Guadalupe & Carranza, 2020; Herbert, 2019). The COVID-19 pandemic has shown how various governments use religion and religious institutions to support their own agendas, but also when they need allies, as in the case of promoting vaccines among senior citizens. The health crisis also shed light on a variety of ideologies around the role of religion and science in providing answers and solutions to unsettling circumstances. Conspiracy theories, scientific explanations and religious ideologies have competed for legitimacy and trust.
During the pandemic, the importance of digital technologies has also become apparent: for weeks or months, religious gatherings, just like some segments of work and education, relied on digital media. For some institutions, the lockdowns and restrictions resulted in a rapid need to adapt: buy equipment and software, learn how to use it, etc. But an ever more profound change is just around the corner, as Artificial intelligence and machine learning become more advanced and widespread. What is the place of religious authority if a robot can replace a monk, as in some Japanese Buddhist temples? What is the meaning of religious ritual, if it is performed by a machine?
These and other pressing issues contribute to the experiences of instability and uncertainty, posing new challenges for religions worldwide. The conference explores this context, and invites scholars who study religion on all career stages to submit papers focused on, but not limited to, the following topics:
Religion and politics, especially in the context of populism
Religion and the environment, climate change, and climate activism
Religion and human rights (gender rights, refugee crisis, border control, civil rights, etc.)
Religion, science and health, especially in the context of the pandemic
Religion and the media (media use and media presence, particularly in digital media)
Religion and technological innovation: challenges, transformations, future prospects
Religion and conspiracy theories in an unstable world
Religion and ethnic and cultural diversity (migration, refugees, mobility)
| | |
| --- | --- |
| Last modified: | 28 January 2022 10.56 a.m. |