Workshops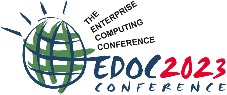 This year's accepted workshops:
Enterprise Engineering (EE) is the application of engineering principles to the design of Enterprise Architectures. It enables deriving the Enterprise Architecture from the enterprise goals and strategy and aligning it with the enterprise resources. Enterprise architecture is used to map the enterprise goal and strategy to the enterprise's resources (actors, assets, IT supports) and to support the evolution of this mapping. It also provides documentation on the assignment of enterprise resources to the enterprise goals and strategy. There are different paradigms for creating enterprise architecture. The most important is to encapsulate the functionalities of IT resources as services. By this means, it is possible to clearly describe the contributions of IT both in terms of functionality and quality and to define a service-oriented enterprise architecture (SoEA).
Organizers:
| | |
| --- | --- |
| Selmin Nurcan | University Paris 1 Panthéon Sorbonne, France |
| Rainer Schmidt | Munich University of Applied Sciences, Germany |
---
The workshop covers fundamental and practical aspects to support digital transformation. This disruptive change interacts with all information processes and systems, which are important business enablers for the digital transformation for years. Intelligent digital architectures enable intense interaction with customers and products. The customer is closely integrated with business processes and interacts like a co-worker by using implicit touchpoints, which are provided by mobility and wearable systems and the Internet of Things. In this way, customer experience is fostered with disruptive transformation and continuous improvement.
Organizers:
| | |
| --- | --- |
| Yoshimasa Masuda | Carnegie Mellon University, USA / Keio, Tokyo University of Science, Japan |
| Alfred Zimmermann | Reutlingen University, Germany |
| Rainer Schmidt | Munich University of Applied Sciences, Germany |
| Asif Gill | University of Technology Sydney, Australia |
---
This workshop focuses on the benefits of generating data that adheres to the principles of Findability, Accessibility, Interoperability, and Reusability (FAIR). It will also provide practical guidance on effectively planning the FAIRification process within your organization.
Since its publication in 2016, the seminal paper on the FAIR principles has gained significant traction, having been cited over eleven thousand times. The FAIR principles have been explicitly referenced in the official reports of both the G20 (September 2016) and G7 (May 2017) summits, used as the basis of the European Open Science Cloud and as requirements for funding agencies around the world, including the European programs Horizon 2020 and Horizon Europe, the American's National Institutes for Health (NIH).
Additionally, experience has shown that adhering to the FAIR principles enhances the value of organisational data, facilitates its reuse, and ensures greater reproducibility of results. However, achieving FAIR data requires defining and refining realistic FAIRification objectives. To effectively FAIRify your data, it is essential to define and refine realistic FAIRification objectives.
This workshop introduces a new method that provides a systematic approach to identifying and developing your own FAIRification objectives. During the workshop, we will build on techniques from software and ontology engineering as well as experiences from prior FAIRification projects.
Organizers:
| | |
| --- | --- |
| César Bernabé | Leiden University Medical Centre |
| Isadora Valle Sousa | Free University of Bozen-Bolzano and University of Twente |
| L.O. Bonino da Silva Santos | Leiden University Medical Centre and University of Twente |
| Marco Roos | Leiden University Medical Centre |
---
The concept of Digital Twin is becoming increasingly popular since it was introduced in the scope of the Smart Industry (Industry 4.0). A Digital Twin (DT) is a digital representation of a physical twin that is a real-world entity, system, or event. It mirrors a distinctive object, process, building, or human, regardless of whether that thing is tangible or non-tangible in the real world. The DT technology provides benefits such as real-time remote monitoring and control; greater efficiency and safety; predictive maintenance and scheduling; scenario and risk assessment; better intra- and inter-team synergy and collaborations; more efficient and informed decision support system; personalisation of products and services; and better documentation and communication. The ultimate purpose of Digital Twins is to improve decision-making for solving real-world problems, by using the digital model to create the information necessary for decision-making and subsequently applying the decisions in the real world. Nowadays, Digital Twins are not limited to industrial applications but are spreading to other areas as well, such as, for example, in the healthcare domain, in personalised medicine and clinical trials for drug development.
Organizers:
| | |
| --- | --- |
| Pedro Valderas | Universitat Politècnica de València, Spain |
| Fabrizio Fornari | University of Camerino, Italy |
| Luís Ferreira Pires | University of Twente, The Netherlands |
| Marten van Sinderen | University of Twente, The Netherlands |
| Giancarlo Guizzardi | University of Twente, The Netherlands |
---
The purpose of the 1st edition of the International Workshop on Empirical Methodologies for Research in Enterprise Architecture and Service-oriented Computing (iRESEARCH) at EDOC'23 is to initiate the conversation on shaping the cross-fertilization of the discipline of Enterprise Architecture (EA) and Service-oriented Computing (SOC) and Empirical Research Methodologies (ERM). The workshop goals are: (a) to open up the interdisciplinary debate on the steadily moving frontiers in empirical methodologies in support of EA and SOC research projects, and (b) to expand the network of researchers designing and conducting empirical studies in EA and in the sub-fields of SOC, which in turn will lead to the cross-fertilization between these two fields and ERM.
EDOC is a well-established community of researchers proposing a wide range of approaches, techniques, and tools that address various problems in the disciplines of Enterprise Architecture (EA) and Service-oriented Computing (SOC). Systematic efforts to evaluate and compare usefulness, effectiveness, and utility of such proposals resulted in a growing attention to methods for empirical assessment. Design science, action research, case studies and experiments, hence, become indispensable and valuable ways to check proposals with respect to the reality, thus allowing to understand their actual value, cost, and benefits in particular contexts. The iRESEARCH workshop invites scientists in EA and SOC to exchange ideas on why and how the empirical research methods can help to assess and improve existing or new approaches in EA and SOC.
Organizers:
| | |
| --- | --- |
| Maya Daneva | University of Twente, The Netherlands |
| Faiza A. Bukhsh | University of Twente, The Netherlands |
| | |
| --- | --- |
| Last modified: | 24 October 2023 1.47 p.m. |