ECOS accredits BCN
Very recently, the quality of education and research of the Research School BCN was evaluated by the Accreditation Committee of Graduate Schools (ECOS - KNAW). ECOS decided to officially recognize BCN as a research school for a period of six years. In addition, as requested by the Boards of the Universities of Groningen and Twente, BCN is also transformed into a national research school in which the research institute MIRA from the University of Twente will participate along with the five faculties of the University of Groningen.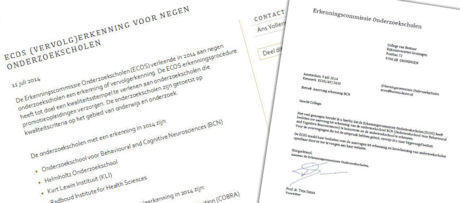 BCN has set itself the target of tuning and streamlining neuroscience-oriented research and educational activities within Groningen and the research institute MIRA. Focal areas of research of the participating research institutes include the ageing brain, imaging and cognition, developmental linguistics, philosophy of cognition, and food and robotics. In the field of education, participating faculties jointly organise Research Master and PhD training programmes. In 2012 BCN received a grant of €800,000 from the Graduate Programme of NWO. In 2014, BCN's Research Master programme was again ranked a 'top programme' (source: Keuzegids Masters 2014), making it both one of the best research masters of the University of Groningen, and the best master in its field in the Netherlands.
In addition to national collaboration, BCN also seeks greater international collaboration. Within the U4 strategic network, BCN is prominently active within the Research Network Ageing Brain. Partly on the initiative of BCN, this research network has become a large international consortium in which, in addition to the U4 partners, the University of British Columbia, the Mayo Clinic, the University of Newcastle upon Tyne, and the University of Copenhagen participate. The consortium includes an international joint PhD network with more than ten joint PhD projects, and the network is also very active within the new framework, Horizon2020, of the EU.
| | |
| --- | --- |
| Last modified: | 05 July 2018 2.44 p.m. |