Online congress: Alien Imaginations. Facing the challenge of first contact
| | |
| --- | --- |
| From: | Th 19-01-2023 14:00 |
| Until: | Fr 20-01-2023 17:00 |
| Where: | Online - Zoom |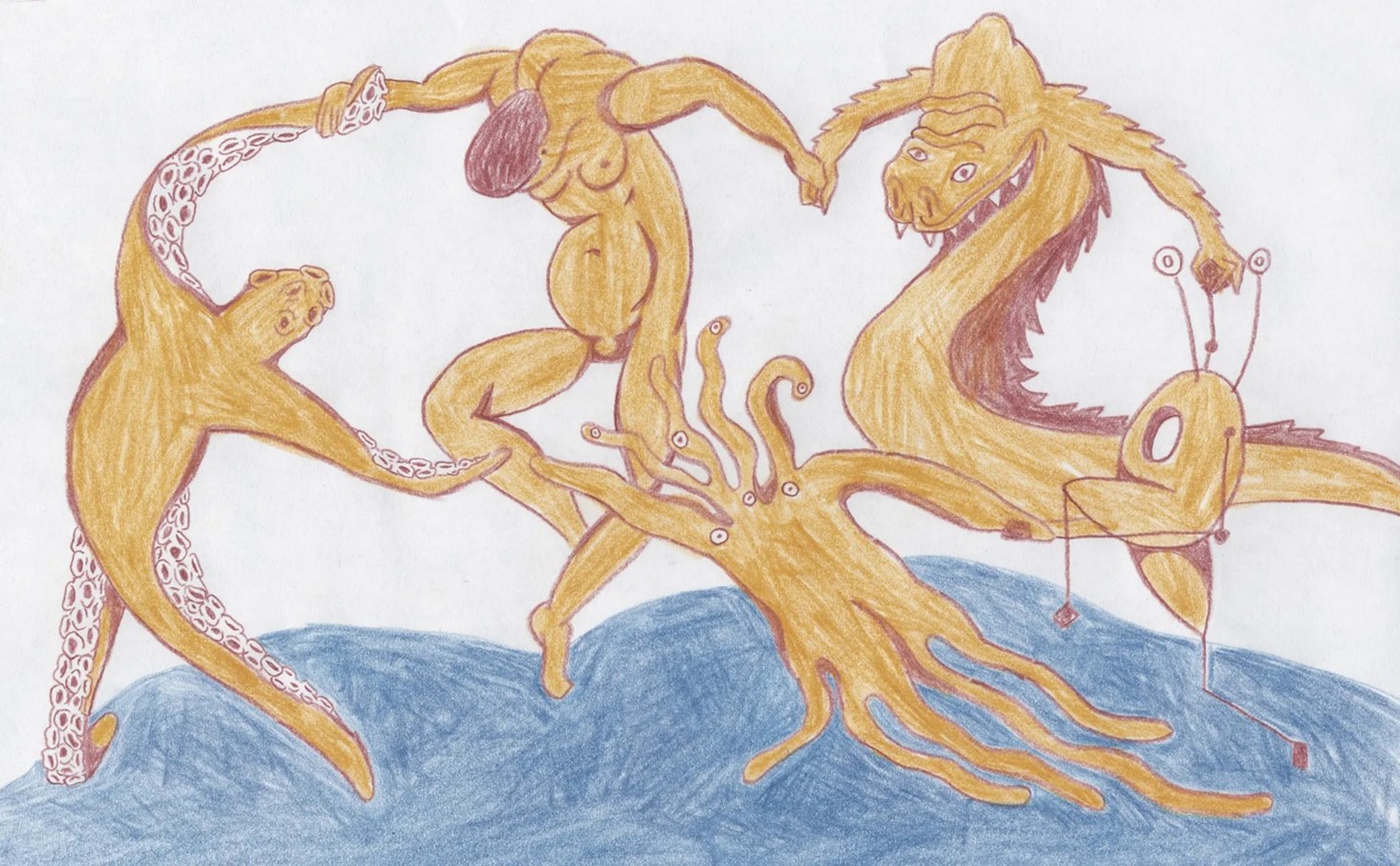 Organizers: Dr. Frank Bosman (University of Tilburg) and Dr. Mathilde van Dijk (University of Groningen)
Thursday, January 19th
14.00-14.10 opening by Mathilde van Dijk
14.10-15.40 Session 1

Floris van der Tak, University of Groningen, Life beyond the Earth: Likelihood & appearance

David Wilkinson, Durham University, From Exoplanets to ET: The search for God and humanity in aliens
16.00-17.30 Session 2

Mauricio Oviedo Salazar, University of Groningen/Universidad Nacional Autónoma de México/Universidad de Costa Rica, "Look Roger, a dead Alien": the role of extraterrestrial life within the esoteric in Mike Mignola's Hellboy.

Frank Bosman, University of Tilburg, The other as myself? Aliens in video games as an anthropological mirror: The cases of Half-Life and Prey
Friday January, 20th
14.00-15.30 Session 3

Kjelda Glimmerveen, University of Groningen, "Something real, something measurable": Science, Religion and Nature in Avatar

Mathilde van Dijk, University of Groningen, "Who will our next oppressors be?": the construction of 'alien' in Dune
15.45-16.30 Session 4

Henriëtte Gunkel, Ruhr-Universität Bochum, Alien Time

16.30-17.00 Closing by Frank Bosman
---
If you are interested, you can sign up by sending an email to Kjelda Glimmerveen: s.k.glimmerveen student.rug.nl
---
Abstracts

Life beyond the Earth: Likelihood & appearance
Floris van der Tak (SRON Netherlands Institute for Space Research & Kapteyn Astronomical Institute, University of Groningen)
As of 2022, over 5000 planets are known to orbit stars other than our Sun. We can measure their sizes and orbital periods, and infer their basic physical properties. We find that many extrasolar planets may be habitable, implying that some may even be inhabited. Would we be able to recognize alien life forms? How different will extraterrestrial life be from known life forms on Earth? What are the prospects of finding traces of life within our Solar system? This talk discusses astrobiological definitions of habitability, and the likelihood of finding life beyond the Earth, or even beyond the Solar system.
From Exoplanets to ET: The search for God and humanity in aliens
David Wilkinson (University of Durham)
The last few decades have seen growing interest in both science and science fiction in the possibility of intelligent alien life. The discovery of exoplanets and a new generation of telescopes has gone alongside a popularity of science fiction in both movies and television. It has suggested that the discovery or encounter with aliens may be just around the next corner and those aliens will be able to communicate. What does this tell us about our self-understanding of humanity and the search for the transcendent? From cosmic loneliness to cosmic salvation, this is both a scientific and a theological exploration which finds important resonance with Christian tradition and into which Christian faith can both learn and contribute.
"Look Roger, a dead Alien": the role of extraterrestrial life within the esoteric in Mike Mignola's Hellboy .
Mauricio Oviedo Salazar (University of Groningen, Universidad Nacional Autónoma de México, Universidad de Costa Rica)
"I was there that night when you came into this world…" those were the words the Visitor (an Alien) told Hellboy before being killed by Inger von Klempt, granddaughter of Herman von Klempt, a Nazi scientist focused on making contact with beings from outer space that promised to give the Germans enough power to destroy their enemies. The Visitor had acted, since Hellboy's invocation on Earth by Rasputin in 1944, as a watcher of the fatal events that would unfold for humanity. In this paper, I analyze the role played by extra-terrestrial life in the world configured by comic book writer and artist Mike Mignola, in which the author syncretized diverse esoteric, religious, and literary traditions. Through the part played by the Visitor in Hellboy, we can build upon some tropes used in fiction regarding extra-terrestrial beings and religious systems of belief. In this sense, the Visitor will be our vehicle to navigate the modes in which syncretized systems of belief, among them the belief in extra-terrestrial life, become part of popular culture.
The other as myself? Aliens in video games as an anthropological mirror. The cases of Half-Life and Prey
Frank Bosman (University of Tilburg)
The human experience of (real, fictional or fictionalized) 'the other' or 'alien entity' results in (a combination of) fear or fascination for that entity. In SF narratives, the otherness is embodied frequently by extraterrestial beings. And in SF video games, these extraterrestials are frequently feared others, with whom humanity is self-evident at war for reasons of self-preservation. Games like Space Invaders (1978), Galaxian (1979), Galaga (1981), Duke Nukem series (1991-2011), Fallout 3 (2008), Far Cry 5, and the Mass Effect series (2007-2012) testify to that. In this presentation, Frank Bosman will introduce and discuss two alien races in modern video games: the Combine from the Half-Life series (1998-2020) and Prey (2017). Both construct the alien otherness as an anthropological thought experiment, in which the 'I' defines itself as and in contrast with that other entity.
"Something real, something measurable": Science, Religion and Nature in Avatar
Kjelda Glimmerveen (University of Groningen)
The 2009 science fiction film Avatar, directed by James Cameron, was one of the most financially successful movies ever made. It tells the story of Jake Sully, a marine who joins an intergalactic project on the planet Pandora, meant to mine its mineral unobtanium while scientists study the planet and its natives, the Na'vi. Jake uses a Na'vi 'avatar' to infiltrate a local community with the goal of convincing them to move away from the unobtanium deposit they live on top of. Instead, however, Jake falls in love with the chief's daughter, Neytiri, and switches sides. When the humans attack the Na'vi and destroy their home, Jake devises a plan to combine the power of technology and the power of nature in order to win the ensuing fight; they win the battle, and the humans are expelled from Pandora- except for Jake and a few others.
The movie was especially praised for its impressive visual effects, but also for its "Green and anti-war message" by well-known reviewer Roger Ebert, and for its anticolonial narrative in big newspapers such as the New York Times. However, it has also been widely criticized, both by scholars and reviewers, for reaffirming colonial standpoints, for its white savior narrative and its stereotyping of native Americans. In this paper, I would like to add to these analyses by focusing on themes which have so far been less central in this discussion: the relationship between science, religion and nature in Avatar.
This paper will argue that the film uses these three interconnecting themes in several ways to support a colonial narrative. The story appropriates the Na'vi's religion in order to justify a Judeo-Christian savior narrative, uses the Na'vi's ties to nature to support the myths of the Noble Savage and the Ecological Indian, and, despite its attempted anticolonial message, presents a eurocentric and anthropocentric view of the Na'vi's religious beliefs and their idealized spiritual relationship with nature
"Who will our next oppressors be?": the construction of 'alien' in Dune
Mathilde van Dijk (University of Groningen)
Dune, as created in two trilogies by American author Frank Herbert, and as reworked for film and TV on several occasions, is distinctive, because its aliens are humans, in principle no different from the colonists, who attempt to conquer their desert planet. This planet, Arrakis, holds the most precious resource in the universe: spice. In addition to the indigenous humans, it is inhabited by several species of animals, among which the huge sandworms are the most spectacular. In my paper I will explore how the humans in Dune are constructed between alien and non-alien as well as opposed to other beings present on the planet. What makes a human? In view of the overwhelming natural circumstances on Arrakis, what is the connection between humans and their surroundings?
Alien Time
Henriette Gunkel (Ruhr-Universität, Bochum)
This paper builds on current debates around the imperial and colonial legacies within the genre of science fiction – here the the notion of spatial expansion and the figure of the alien other are particularly relevant – by turning to Afrofuturist and Africanist interventions. It takes as a starting point Octavia Butler's novel Kindred (1979) in which she not only provides the notion of alien time as an alternative way of thinking around time but also an exploration of alienation and the figure of the alien that operate differently to imperial imaginaries.