Science and Religion in India: Beyond Disentchantment
| | |
| --- | --- |
| When: | Tu 14-06-2022 17:00 - 19:00 |
| Where: | Courtroom, Faculty of Theology and Religious Studies, Oude Boteringestraat 38, Groningen |
The Centre for Religion, Conflict and Globalisation and the Institute of Indian Studies, University of Groningen, are delighted to co-sponsor an event with Renny Thomas to celebrate the publication of his new book Science and Religion in India: Beyond Disenchantment (Routledge, 2022).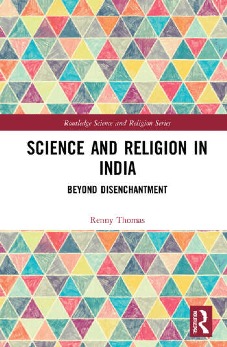 Beyond binary models
The book provides an in-depth ethnographic study of science and religion in the context of South Asia, giving voice to Indian scientists and shedding valuable light on their engagement with religion. Drawing on biographical, autobiographical, historical, and ethnographic material, the volume focuses on scientists' religious life and practices, and the variety of ways in which they express them. Renny Thomas challenges the idea that science and religion in India are naturally connected and argues that the discussion has to go beyond binary models of 'conflict' and 'complementarity.' By complicating the understanding of science and religion in India, the book engages with new ways of looking at these categories.
About the author
Renny Thomas is Assistant Professor of Sociology and Social Anthropology at the Department of Humanities and Social Sciences, Indian Institute of Science Education and Research (IISER) Bhopal, Madhya Pradesh, India. He is a visiting fellow at the Department of Cultural Anthropology, Friedrich Schiller University Jena, Germany (2022–2023). He has published extensively on science and religion, atheism, machines and rituals, and science and social justice. He is the author of Science and Religion in India: Beyond Disenchantment (London: Routledge, 2022), and co-editor of Mapping Scientific Method: Disciplinary Narrations (London: Routledge, 2022). After an introductory lecture by Renny Thomas, Elena Mucciarelli and Kocku von Stuckrad, both from the Faculty of Theology and Religious Studies, will offer their comments on the book, followed by a conversation with the author and the audience. After the event, there will be a reception at the Faculty Hall.