Online Opening Academic Year Faculty of Theology and Religious Studies
| | |
| --- | --- |
| When: | We 02-09-2020 15:00 - 16:00 |
| Where: | Blackboard Collaborate |
The opening of the academic year 2020-2021 for the Faculty of Theology and Religious Studies will be held online on Wednesday 2 September 2020. The main topic of the the programme will be religion and slavery. Our speaker and special guest is Dr Valika Smeulders, Head of the History department of the Rijksmuseum and curator of the upcoming exhibition in the Rijksmuseum on slavery.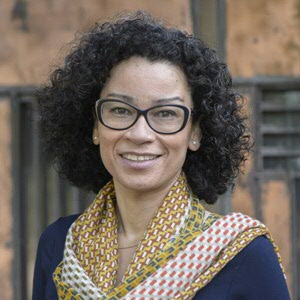 About Valika Smeulders
Researcher and curator Dr Valika Smeulders specialises in the colonial past and its presentation. Her published work on the Dutch slavery past in the Netherlands, Curaçao, Suriname, Sint Maarten, Ghana and South Africa includes Op zoek naar de Stilte and Slavernij in Perspectief. Alongside her position at the Rijksmuseum, Smeulders is a postdoctoral researcher at the Royal Netherlands Institute of Southeast Asian and Caribbean Studies (KITLV) and the owner of Pasado Presente. She is a member of the Koloniale Collecties committee, UNESCO Memory of the World Comité Nederland, The Caribbean Literature working group and the Committee for Kingdom Relations (Koninkrijksrelaties). In 2019 Valika Smeulders gave the sixth Rudolf van Lier lecture at the University of Leiden, and received the Black Achievement Award in the Education and Science category.
Registration
If you wish to attend the opening, please register via the registration form before 28 August. You will receive a login link a few days before the event.
Programme
| | |
| --- | --- |
| 3 - 3.05 p.m. | Welcome by Dean Prof. dr. Mladen Popović |
| 3.05 - 3.25 p.m. | Lecture Dr Valika Smeulders - Slavery and Religion |
| 3.25 - 3.40 p.m. | Q & A with Dr Valika Smeulders |
| 3.40 - 3.50 p.m. | Presentation Study Association Gerardus van der Leeuw |
| 3.50 - 3.55 | Closure |