Lecture Haim Goldfus: "Facing Reality at Masada: The Missing Evidence"
Wanneer:

wo

21-03-2018 16:00 - 18:00
Waar:

Courtroom, Oude Boteringestraat 38 Groningen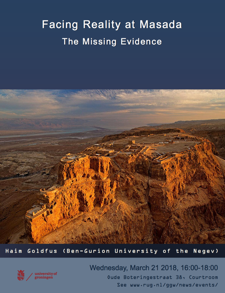 Masada is arguably the most famous ancient site in Israel, known for its stunning location and the story of its last occupants, who took their lives rather than surrender to invading Roman forces after a siege.
Following a short summary of what we know about Masada and its history, from Flavius Josephus and the archaeological data, I will present a new analysis and conclusion concerning what could not have happened at Masada.
Haim Goldfus is a Professor in the Department of Bible, Archaeology and Ancient Near Eastern Studies at Ben-Gurion University of the Negev and former co-director of the Halutza Excavation Project. In 1995 he conducted, with Benny Arubas, an excavation of the Roman siege ramp at Masada.