Christianization of the Netherlands - Fact and Fiction
Wanneer:

ma

12-11-2018 15:00 - 18:00
Waar:

Faculty of Theology and Religious Studies, Oude Boteringestraat 38 (zittingszaal)
The Second Colloquy on Christianity, Theology and Heritage will be held on November 12, 2018 at the University of Groningen. Organized by the Centre for Religion and Heritage (RUG) and the Protestant Theological University, Groningen. The second edition in a series of colloquies.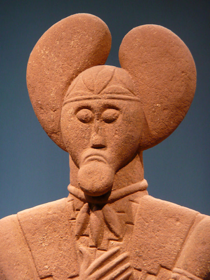 Speakers
Dr. Gert J. van Klinken, assistant professor Church History (PThU Amsterdam)
Dr. Johan A.W. Nicolay, assistant professor, Institute of Archaeology (RUG)
Dr. Rob Meens, assistant professor, Department of History and Art History (UU)
Program
| | |
| --- | --- |
| 15.00 | Opening by Dr. Andrew Irving (CRH) |
| 15.10 | Lecture by Dr. Gert J. van Klinken, Christianization of the Netherlands - Fact and Fiction |
| 15.45 | Break |
| 16.00 | Short introduction of the following speakers by Dr. Mathilde van Dijk (RUG) |
| 16.05 | Response by Dr. Johan A.W. Nicolay |
| 16.30 | Response by Dr. Rob Meens |
| 16.50 | Short response by Dr. Gert J. van Klinken |
| 17.00 - 17.30 | Debate, led by Prof. Dr. Hans-Martin Kirn (PThU) |
Abstract of the Lecture: Christianization of the Netherlands - Fact and Fiction
The historiography of het Christianisation of the Netherlands between 300 and 800 AD is closely connected to the supposition, still common in recent literature on the subject that a cult of Woden and Thor existed in this area prior to the coming of Christianity. Elaborating on a PThU-doctoral thesis by Marije Mazereeuw (2015), I shall propose an alternative view, in which the existence of a well-developed pagan cult was a standard requirement for Christian literary treatment of the conversion process. 'Well-developed' is taken here in the sense of endowment with ritual, sacred spaces, mythology (all of which, taken together, may be expected to exert an influence on later developments of culture and religion). However, material indicators for the existence of such a cult of Woden and Thor are quite weak, which is a point of concern given the thoroughness of Dutch archaeological research during the last previous decades. As the written accounts are solely written by Christian clerics, and mostly after 800 AD, it is tempting to consider the possibility that their portrayal was modelled after the most powerful pagan presence during the Carolingian era – that is to say, the Scandinavian presence, the impact of which was felt from the North. Whether this also implies the presence of a Woden cult in the Netherlands, before the Norse incursions in the 9th century, is debatable.