Zoology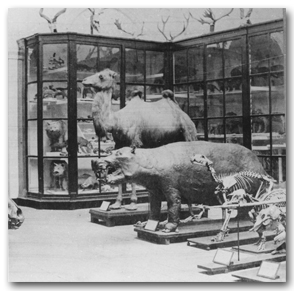 In the University's new academy building of 1850 five rooms on the top floor were used to display the broad natural history and zoological collection of the university. Hundreds of minerals, fossils and specimens of animals were displayed here in large cabinets.
The collection was started by the university's professor of natural history, Theodorus van Swinderen. Scholars and students from all over the world supplied him with objects for the collection.
In 1906 a fire in the academy building destroyed this beautiful collection. Thousends of stuffed birds, a giraffe, a hippopotamus and lots of other specimens of animals were lost. Only the objects that were recently stored elsewhere, such as the collections of minerals and fossils, were preserved.
| | |
| --- | --- |
| Last modified: | 08 October 2021 2.43 p.m. |