Alumna Elisa Ahovuori-Motta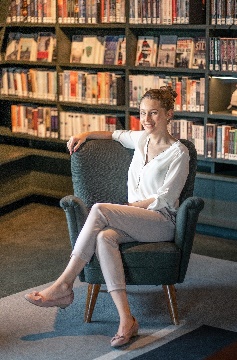 How is it to work for an employer during corona? We asked alumna Elisa Ahovuori-Motta
My name is Elisa Ahovuori-Motta, I am 31 years old and I live in Utrecht with my husband and daughter. After my Bachelor's in English, I enrolled in a Master's in International Relations and International Organisation and I obtained my degree in 2016. Since September 2020, I have been working at INTK as a project manager and online marketer. INTK is an online marketing organization for the non-profit sector and our clients include museums and festivals, but also castles, charity organizations and other worthy causes.
How many jobs have you had prior to your job as project manager/online marketer at INTK?
This is my fourth job. My first one was for an online ticket shop, then I worked in the department of Alumni Relations and Fundraising at the UG, then I switched to JDFR fundraising for Diabetes type I and now I work at INTK. As a student I worked as a babysitter, lunch teacher at an international school, and I completed my Master's placement at the Centre for European Security Studies in Groningen.
If you could describe your role at INTK using one word, what would it be?
We do everything from scratch, so I believe the word 'entrepreneur' is the best fit. In addition to our work for clients, we also help recruit new colleagues.
What are your most important tasks as a project manager/online marketer and which competences do you need for this job?
In my job building customer relationships is most important, in addition to marketing activities. Relationships with customers require good listening skills, you need to be able to understand the customer and the industry, and the ability to manage expectations is also a very valuable skill. For marketing-related tasks it is important that you know how to use Google Analytics and Google Ads, so I completed several courses in these areas as part of my first job in 2017. Every year I retake the free online exam, in my own spare time. To work in marketing, you also need an analytical mind, you have to be able to understand the system behind the data, you need to be curious and have a drive for discovery.
Is there anything you learned during your degree programme that applies in your current role?
The subjects I learned in university do not always apply to my job, but I do use the same working method. As a student you learn how to work with strict deadlines and how to work in groups. You also learn a lot about planning and organizing.
What does an average day at work look like for you?
That's a difficult one to answer, because I spend half my time working from home and the other half in the office. My days are very different. I work with clients in Finland and under normal circumstances I would have gone on frequent business trips there. But now I do my pitches online and I video conference a lot with customers. Sometimes I call or email. I find out more about new clients online and then I call them to schedule a video conference. In addition, I also create campaigns and follow up on them, and I help recruit new people in Finland. I have meetings with my team twice a week, sometimes we have lunch together, and we communicate mainly via the various channels on Slack. But I prefer to have face-to-face meetings at the office.
How have the measures to halt the spread of coronavirus impacted the success of your job?
I think the impact has been pretty limited because I am able to concentrate very well at home. But I would very much like to travel to Finland again to meet with clients. In the beginning I struggled to keep my work life separate from my personal life. That was partly due to the fact that social activities were limited because of the pandemic, and this was exacerbated by the fact that I moved to a new city. I spoke to my mentor about this, and she gave me some good tips. Talking helps. I've been out for a run a couple of times with someone I met on a Facebook group and that has given me a lot of energy. I now decide more consciously when my work is done for the day and I allow myself to focus my attention on my daughter, husband, and others.
You applied for a job during the pandemic, how did that go?
I had already sent several job applications when I saw this vacancy on Facebook. The interview took place in person and on location in Utrecht. They wanted someone who spoke French fluently but I ended up being hired for the Finnish market. Finnish is my native language. There are also vacancies for permanent positions for Dutch native speakers and several other languages (see the vacancies on the Career tab).
You worked mainly from home until September because of the pandemic. How did you feel about that?
My previous job started at the end of February 2020 and due to the lockdown that went into effect in March, my work was almost immediately 100% done remotely. I struggled with that because I did not yet know my team very well. It also took a while for online communication to truly get off the ground. As I was on a temporary contract, I decided to start applying for other jobs. At the time online or on-site working did not play a huge role in my decision-making process, but now I am happy that I see my colleagues every week and that the first three weeks I was in the office full-time.
Do you have any tips for students who are currently looking for placements or jobs?
I strongly suggest speaking to as many people as possible; networking is important. Do not give up too soon, it may take some time but don't worry, it is not impossible to find something during this pandemic. Life goes on. If you are interested in marketing, you can start now by taking free online courses on Google Analytics and Ads. These are great additions to your CV.
| | |
| --- | --- |
| Last modified: | 07 January 2021 08.43 a.m. |