Eindredactie: systeem van correctietekens
Voordat je de definitieve versie van een tekst inlevert, doe je er verstandig aan om te (laten) controleren of er geen fouten in zitten: spel- en typefouten, typografische inconsequenties, etcetera. In dit laatste productiestadium van teksten is uiterste precisie vereist. Daarom is een gestandaardiseerd systeem voor correctietekens ontwikkeld dat wordt gebruikt door auteurs, eindredacteurs, uitgevers en drukkers.
Let wel: een dergelijke minutieuze controle is pas relevant wanneer je in het allerlaatste productiestadium van je tekst zit. In eerdere schrijfstadia houdt teveel aandacht voor de puntjes op de i alleen maar op. Je kunt je in deze eerdere stadia beter beperken tot globale revisie, waarvoor je onder meer gebruik kunt (laten) maken van het notatiesysteem voor commentaar bij conceptteksten.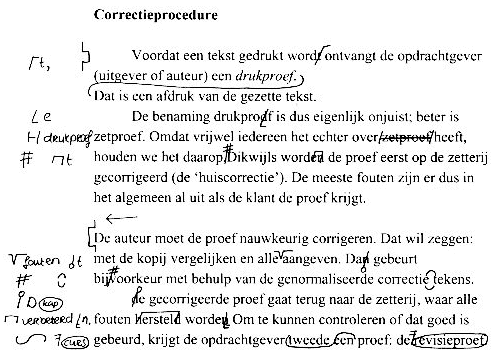 Systeem van correctietekens
Procedure: markeer de onjuistheid met behulp van een verwijsteken (zie hieronder); plaats hetzelfde verwijsteken in de linkermarge; in sommige gevallen moet je daarbij nog de verbetering aangeven, bijvoorbeeld als letters moeten worden aangevuld of vervangen.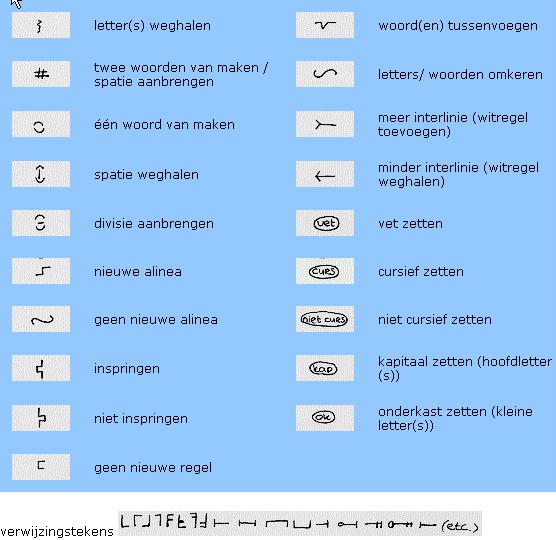 | © 2002 | RUG, Faculteit der Letteren, project Communicatieve Vaardigheden |
| | |
| --- | --- |
| Laatst gewijzigd: | 05 april 2019 13:34 |