"Studying here has been an awesome experience"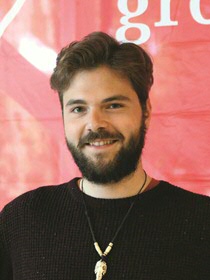 Studying here has been an awesome experience. First of all, from an academic perspective. I got to learn things in a different way. Back home I was used to study more theoretical material. Whilst here I really got to know how doing research actually works. I got to study different papers and the way of educating is more technologically advanced. Moreover, the environment is very international. This was the first time that I had a chance to meet people from all over the world, for example, from Australia, China, Korea or America! This was great because you got to socialize with people who have a completely different cultural background. This sometimes led to facing a number of cultural problems, which makes you grow as a person, somehow. Overall, I am really happy I chose this place, because with whatever perspective you look at it, this turned out to be the best option for me. It was exactly what I was looking for.
The study programme definitely met my expectations. I truly had the chance to grow as a professional. Before my arrival, I was sure that I would study clinical psychology and become a psychotherapist. When I came here I looked at psychology in a different way. I analyzed different tracks, for example social psychology, evolutionary psychology, traffic psychology, environmental psychology… There are so many choices; I honestly started to doubt my own plans. And now I am thinking about coming back here for the research master.
I would describe the atmosphere here as tailored to students, everything here is built entirely for students. When you look at the faculty buildings; you cannot believe it is a university. It looks so beautiful; it could be a restaurant! You have the feeling you belong to the university. The university believes in you and gives you many opportunities. Studying may not be easy, but because you get a lot of support, you will still manage.
I want to return here to participate in the research master of Behavioural and Social Sciences. I am currently a second-year student, so I need to finish my bachelor first. It is going to take me one more year, but I am seriously considering to return. I am really interested in the research master. I know it is hard to get in, but I want to participate because afterwards there is a huge percentage that will acquire a PhD place more easily; which is my main focus. Something that this university has taught me is that even though you are unsure of what the future brings, you know you have many possibilities to grow. Something I was not aware of before.
| | |
| --- | --- |
| Last modified: | 23 October 2017 11.47 a.m. |