"I would definitely recommend the city and the University to future students"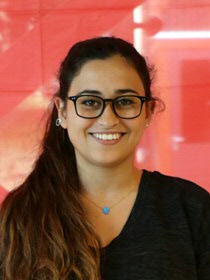 I really enjoyed my exchange period. At this point, I do not think I want to go home. Coming here was a big step for me. At home, you are always depending on your family and friends. I do not step out of my comfort zone that easily. My hometown is Cairo, Egypt; it is really crowded with a large population. I am used to having many people around me. Also, I have been around Europe, but I never visited the Netherlands before. Groningen is really small compared to home. This made the step of coming here even bigger. However, I do not regret choosing this place. The city is nice; it feels small and cozy. Also, the large student population is really enjoyable. Whenever you are walking down the street you see so many familiar faces! Most people are also very eager to get to know one another, everyone is in the same position of wanting to make new friends.
I thought the study programme was good. I followed 2 courses per block. The courses were really challenging compared to the courses back home. But, in general, I believe I learned a lot. I did not only grow academically, but also as a person. This is also because you get to be independent. When I am in my hometown, I have my "old" friends to study with and all the professors know me on a personal basis. The new environment was really challenging, but it was good.
I came to the Netherlands, because I wanted to do something new. Also, it is one of the few countries where psychology is taught in English; so practicality was also a motive. Whenever I would read something about the University of Groningen, I would see reviews about its diversity, international orientation, the "young" city and the large student population. It was exactly what I read about!
The whole "vibe" here in the Netherlands is very tolerant and open to many people. This energy is spread among the people who live here. I never felt like I was excluded from something or that I was unwelcome.
I would definitely recommend the city and the University to future students. Mainly because it is different from any other place I ever visited.
When I was studying for my exams, we would all go to the library and be there from 9 AM till 12 PM. It would be full with students and that was when I realized how safe I felt. I would feel the warmth and support of the group. Everyone was making sure that you were doing well. All of the students were working hard, which motivates you to do the same. I have spent a lot of time in that library.
| | |
| --- | --- |
| Last modified: | 23 October 2017 11.42 a.m. |