Welcoming Ceremony Faculty of Theology and Religious Studies
| | |
| --- | --- |
| When: | We 31-08-2016 14:00 - 17:00 |
| Where: | Faculty building, Oude Boteringestraat 38, Groningen |
The Faculty of Theology and Religious Studies organizes a Welcoming Ceremony for all it's new Master's degree students and exchange students on Wednesday 31 August 2016. You will receive an invitation from the Faculty. New international students are strongly advised to attend, since it's the best way to get to know your fellow students and lecturers and learn all about finding your way around the faculty building.
Programme
2.00 pm
Walk-in with coffee and tea
2.15 pm
Word of Welcome by the Dean
2.25 pm
Studying at our faculty
2.35 pm

Meeting with coordinators of the master's tracks:
- Ancient Scriptures and Cultures: prof. dr. George van Kooten
- Concealed Knowledge: dr. Lautaro Roig Lanzillotta
- Religion, Conflict and Globalization: dr. Joram Tarusarira
- Religion and the Public Domain: dr. Mathilde van Dijk
- Research Master: prof. dr. Marjo Buitelaar

3.15 pm
Presentation by Student Adviser and International Officer
3.30 pm
Instruction computer facilities Nestor and Progress by ICT coordinator
3.50 pm
Guided tour faculty building by international student mentors
4.15 pm
Wrap up and drinks
Welcoming Ceremony University of Groningen
The University organizes an official Welcoming Ceremony for all new international guests on Thursday 1 September 2016. All new international students should receive an invitation from the University.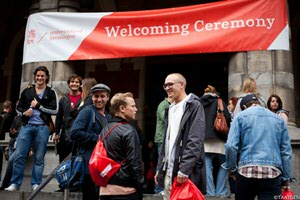 During the Welcoming Ceremony, all new international students will be addressed by distinguished speakers such as the mayor and the president of the university in Groningen's famous Martini Church. Also, an information fair will take place where students will be introduced to whatever the university and the city have to offer in terms of sports and cultural facilities, international student associations and much more! We will end the day in celebration of your arrival with live music, dancing, drinks and snacks. The Welcoming Ceremony is the perfect opportunity to meet fellow international students and staff of the university and its faculties!
Introduction Week ESN
After the Welcoming Ceremony, there will be an additional Introduction Week, organized by Erasmus Student Network (ESN) Groningen. In this week you will be introduced to different kinds of social and cultural aspects of Groningen. The Introduction Week includes cultural events and tours of the city, sports, parties and dinners.
> Visit the ESN Groningen website and register for the introduction week
KEI-week: 15 - 19 augustus
And why not come to Groningen two weeks earlier and join the general introduction programme for all new students in Groningen, called the KEI-week? During this week you will be placed in an international KEI-group with about 12 to 15 other new students. Half of the students in your group will be Dutch and the other half comes from abroad. During the KEI-week you can visit information markets and get into contact with all the fraternities and student societies. You will have a taste of the cultural and sporting facilities that Groningen has to offer and get to know new people. So the KEI-week is the key (KEI) to your future!
Movin' to Groningen
Moving to a different country can be overwhelming. Therefore the University sends a welcoming team to Schiphol Airport on Monday 29 and Tuesday 30 August. Just let us know when you arrive and the team will help you on your way to Groningen. The university also offers some practical information about living in the city. For example arranging your stay, student services at the university and other practical information such as public transport and the dentist.