Jezus als kijkcijferkanon
Wanneer:

wo

16-04-2014 20:00 - 21:45
Waar:

Academiegebouw, Broerstraat 5 Groningen
Het succes van The Passion
Lezingen en discussie verzorgd door studievereniging Gerardus van der Leeuw, de faculteit Godgeleerdheid en Godsdienstwetenschap en Studium Generale.
- toegang gratis -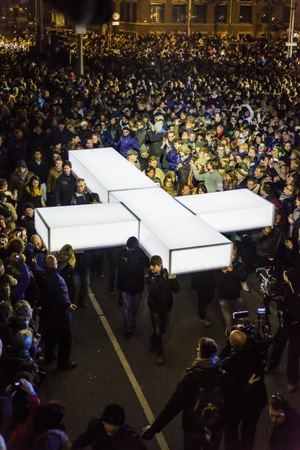 Op 17 april is Groningen het decor van het TV-spektakel 'The Passion'. Zo'n 2,5 miljoen kijkers, thuis en op straat, zijn getuige van de laatste uren uit het leven van Jezus. Bekende Nederlandse artiesten vertolken zijn lijden en opstanding. De kruisiging van Jan Dulles (3JS) als toppunt van volksvermaak, kan dat eigenlijk wel? Wat blijft er over van het Bijbelse verhaal en de religieuze betekenis van het lijden van Jezus Christus? Is hier sprake van een uniek Nederlands fenomeen of zijn we eigenlijk minder bijzonder dan we denken?
Wetenschappers Justin Kroesen en Wouter Slob analyseren dit mediaspektakel vanuit een cultuurtheologisch perspectief. EO-presentator Herman Wegter zal reageren op de lezingen.
Justin Kroesen: Oude wijn in nieuwe zakken?
Hoe eigentijds het live-verslag van The Passion ook mag overkomen, deze bijbelse musical staat in een eeuwenlange traditie van passiespelen en Stille Week-processies. In ons land verdwenen die na de middeleeuwen uit de straten, maar in andere landen bleven deze gebruiken tot aan de dag van vandaag springlevend. Hoe past onze Nederlandse TV-passion in deze lange traditie? Hoe lang zal deze formule een succes blijven?
Wouter Slob: Taaie kost of snelle hap?
In onze geseculariseerde samenleving lijkt dé religieuze waarheid niet meer te bestaan, iedereen vult deze waarheid voor zichzelf in. Maar dit blijkt een her-actualisering van The Passion niet in de weg te staan. Wat ooit een moeilijke boodschap was, is nu een fantastisch spektakel. Is de taaie kost ingewisseld voor een snelle hap? Is dit een eigentijdse manier van evangeliseren, of een uitholling van haar boodschap?

Sprekers
Dr. Justin Kroesen is universitair docent Kunstgeschiedenis van het Christendom aan de faculteit Godgeleerdheid en Godsdienstwetenschap van de RUG. Daarnaast is hij coördinator van het Instituut voor Christelijk Cultureel Erfgoed en van de master Religion and the Public Domain. Hij is een groot deskundige op het gebied van het middeleeuwse dorpskerkinterieur.
Prof. dr. Wouter Slob is systematisch theoloog en filosoof en predikant van de Protestantse Kerk in Nederland te Zuidlaren. Hij is als bijzonder hoogleraar verbonden aan de Faculteit Godgeleerdheid en Godsdienstwetenschap van de RUG op de leerstoel "Protestantse Kerk, Theologie en Cultuur". In zijn onderwijs en onderzoek zoekt hij steeds naar de raakvlakken tussen theologie en filosofie.
Herman Wegter is EO-tv-presentator van de programma's 'Geloven op 2' en 'Melk en honing'. Hij presenteerde kinderprogramma's en vanaf 2004 programma's voor volwassenen als Lovematch, Fataal, Vreemde tralies en De Kist. In 2012 was hij kandidaat van de Christenunie (plaats 7) voor de Tweede-Kamerverkiezingen.