International Conference: "Silence and Religion in Film"
| | |
| --- | --- |
| When: | Th 30-05-2013 at 11:00 |
| Where: | Forum Images, Hereplein 73 Groningen (the Netherlands) |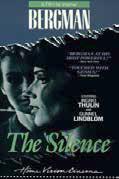 The subject of the conference, Silence and Religion in Film, refers to both silence and silent moments in (contemporary) films as well as to the issue of whether or not it is possible to interpret silence or silent moments in films as religious phenomena. This subject will be approached from the perspectives of theology, religious studies and film studies.
The focus will be on the question of what representations of silence in film can contribute to the field of both theology/religion and film studies and what theology/religion and film studies can contribute to representations of silence in film.
Keynote speakers
Jonneke Bekkenkamp, University of Amsterdam, The Power of Flowers: On engendering Moving Visions of Silence
Tjeu van den Berk, em. Catholic Theological University, Utrecht, The threefold Silence after the Death of God
Kutter Callaway, Fuller Theological Seminary Pasadena, The Sound of Silence, Westerns, Wisdom and Myth
Ruard Ganzevoort, Vrije Universiteit Amsterdam, Silence Speaks
Gerhard Larcher, Karl Franzens University, Graz, Austria,God's presence in silence
In addition, there will be an interview with Polish-Dutch director Urszula Antoniak.
Films
During the conference, we will show the following films:
Ingmar Bergman, Tystnaden (The Silence)
Ethan and Joel Coen, True Grit
Urszula Antoniak, Nothing personal
Lars von Trier, Nostalgia
Registration & Costs
The conference will be held from May 30th till June 1st 2013.
> Contact