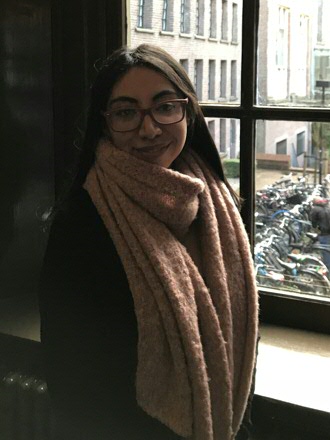 Karen Almonte, UNAM (Mexico), 2018
As someone who is interested in a variety of religiously-related subjects, I very much enjoyed my time at the Faculty of Theology and Religious Studies. My experience of the professors has been very enjoyable; they are experts in so many fields and are very good at transmitting their knowledge creatively so that all students gain a better understanding of the topic. Debate is encouraged in lectures and I have liked the wide range of views expressed, which has helped me to consider some new angles of various religion-related issues. Throughout the debates the lecturers are good at mediating, whilst leaving it open for students to decide their own responses amongst themselves.
One of the things I really liked about being an exchange student is the opportunities for personal growth that it encourages. For example, I have been able to experience situations here in Groningen that have contributed to my knowledge and ability to interact with different cultures. I was originally nervous about leaving a comfort zone and entering unfamiliar situations, but it has really been worth it!
I would like to come back to the city and University of Groningen. I love the city, the people have been very friendly and I have even begun to enjoy the weather! When the time comes I will consider a Master's Degree at the UG because their programmes are varied and the professors really seem to enjoy and are very good at teaching their subjects.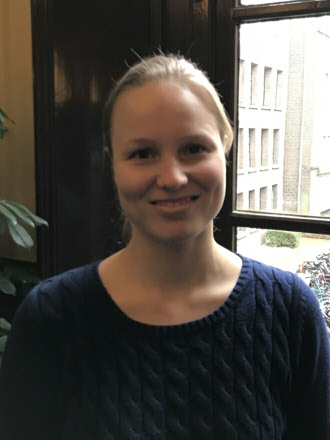 Emma Mäkinen, Turku University (Finland), 2017
My Major in my degree is in Religious Studies, and when I found out that my university offered exchanges to the University of Groningen I went to look at the website for the Faculty of Theology and Religious Studies. I was very impressed by the large number of interesting courses taught in English that I found, whilst also feeling confident that Groningen was the right place to improve my knowledge in my own field and gain useful experience from an exchange.
The faculty is very well set up for international students, it's really welcoming and during classes I felt like I had been studying at Groningen all along! I was interested to hear the variety of views that my classmates had, whilst it was great to go into such detail with the professors. The lectures go into great detail on one specific topic; giving as many points of view as possible and not just rushing through. The faculty building is really atmospheric, it always made me feel special arriving for classes- I'm going to miss the awesome people and my shiny student card!
I really hope to come back to Groningen in the future, whether that is at the University, or just to visit. I would very much like to see how beautiful it is in Spring!
John Gay,
Ruhr-University Bochum
(Germany), 2017
As an Erasmus student, I was looking forward to arriving at the University of Groningen and taking part in the faculty's rich programme. The teaching quality is excellent; with very small classes, direct contact with professors and lively debate with other students. I have been impressed with how interdisciplinary the course I was following has been; allowing an excellent insight into modern studies within (international) theology and religious studies, whilst delving deeply into each topic.
It was originally odd to attend classes in English, however once I became immersed in class debates I found it fantastic to see how students with various academic background approached different topics and issues. I have also been impressed with the various initiatives that are in place for international and exchange students at the UG. It is easy to make friends with both international and Dutch students and the mentor programme at the faculty is very helpful in making sure you get off to a good start in Groningen.
I'll miss the city of Groningen, it has an uncountable number of lovely small cafes and I've not been able to visit them all! I shall also miss the friendly and warm people here, the special atmosphere of the faculty and the interdisciplinary discussions in the class. There are still parts of the city I want to discover and the university is a big pull to come back and continue my education in the future.
| | |
| --- | --- |
| Laatst gewijzigd: | 22 juli 2019 13:28 |