Transport
Groningen has a compact city centre, making it easy to get around on foot, by bicycle or via public transportation. The city is well-connected by train and bus to all major airports and train stations in the Netherlands.
Airport Connections
The three nearest airports to the University of Groningen are Groningen Airport Eelde, Amsterdam Airport Schiphol and Bremen Airport.
Groningen Airport Eelde
Groningen has its own airport with connecting flights to various destinations around the world. Bus 9, which runs between Groningen and Eelde, will take you straight to or from the airport.
Amsterdam Airport Schiphol
Most students flying to the Netherlands arrive at Schiphol Airport in Amsterdam, from where Groningen is just over a 2-hour train ride away. You can take a direct train to Groningen from the train station at the airport, near Schiphol Plaza (just look out for the signs). The direct train departs every hour, but there is also another train that involves only one transfer. You can also take the Flixbus to Groningen. This is a great option if you're arriving late at night or want to save some money, though you do need to book a seat in advance.
Bremen Airport
This German airport is only a 2.5-hour drive from Groningen. The easiest way to travel from Bremen to Groningen is via Flixbus. This will cost around €11 euros depending on your arrival time.
Public Transportation
The Netherlands has a very efficient and reliable public transportation system, but you are advised to purchase a public transport pass (OV-chipkaart) to take the best advantage of it. You can apply for a public transport pass via the OV-chipkaart home-page. It is possible to upload credit on the card and use it to check in and out of the various public transport systems without having to buy tickets each time. Just remember that you must always check in and out every time you get on or off a bus, train, metro or tram. The 9292 app is very useful when planning a trip, as it takes all the different transportation companies you can use into account.
Trains
The NS is the main railway company that connects cities by rail in the Netherlands. The NS app is very useful when planning your trips: it will alert you if there are any changes to your original itinerary due to delays, etc.
Buses
There are two main bus companies in the Netherlands. Qbuzz mostly runs within cities, whereas Arriva mainly has intercity buses. Tip: buses 1 and 15 offer a direct line between Groningen and the Zernike campus.
Trams and Metro
While there is no tram or metro system in the city of Groningen, they do run in some other cities in the Netherlands. You can check in and out of these just like you would on the bus or train using your OV-chip kaart.
With all of these excellent options available, finding a mode of transportation that suits your needs will be the last thing you have to worry about during your time in our beautiful city.
Other Means of Transportation
Driving
One of the main things you will need to get used to when driving In the Netherlands is the number of cyclists on the roads. You must also be over 18 years, have a valid driver's licence and insurance, and a registered vehicle.
Driver's Licence
Depending on where your licence was issued, it may be valid in the Netherlands. In some cases, you may be able to exchange your driver's licence for a Dutch one. If you're not eligible to exchange your licence, it is possible to take a Dutch driving test at the CBR.
EU countries, Liechtenstein, Norway or Iceland
If you have a licence that has been issued from one of the EU member countries, Liechtenstein, Norway, or Iceland, you can continue using your licence until it has expired or exchange it for a Dutch licence. In order to exchange your licence you must:
Be a registered resident of the Netherlands with a valid residence permit (if applicable)
Report to the municipal office within one year of taking residency in the Netherlands
Have obtained your current driving licence while being a resident of that country for at least 6 months
If your current licence has expired it is still possible to exchange it if you have a declaration from the organisation that issued your licence that it has no objection to you being issued a Dutch driving licence. Find out more at the Rijksdienst voor Wegverkeer (RDW).
Non-EU and EEA Countries
If your licence has been issued from a non-EU and EEA Country, you may use it for up to six months after taking up residency. You may be asked to show an international driving licence, which you can apply for via the CBR. After the six month grace period, you will need to pass a CBR driving test if you wish to continue driving in the Netherlands.
Cycling
A convenient network of bike lanes within the city of Groningen makes cycling the fastest way to get around the city. These bike lanes also connect the city to some of the smaller villages around. If you buy a bike, make sure to also purchase one or more quality locks. Don't buy your bike from a street seller (these are usually stolen bikes and you can be fined). Second-hand bikes are widely available in bicycle shops around town.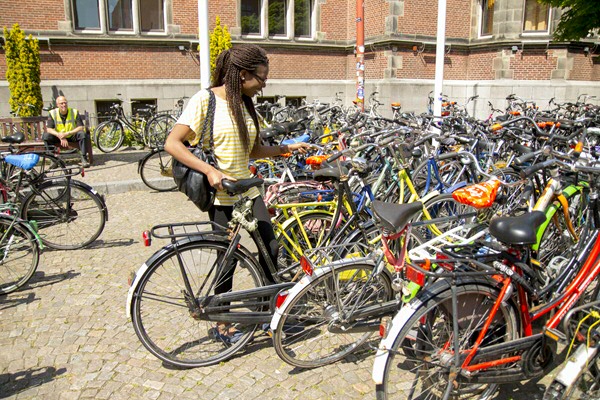 | | |
| --- | --- |
| Last modified: | 15 April 2021 08.08 a.m. |