PhD Defence Edith Visser | Diet, body composition and asthma
| | |
| --- | --- |
| When: | Th 12-10-2023 13:30 - 15:00 |
| Where: | Campus Fryslân, The Beurs, Wirdumerdijk 34, 8911 CE, Leeuwarden |

Diet, body composition and asthma
On Thursday, October 12, Edith will defend her dissertation titled 'Diet and body composition in asthma' at the University of Groningen, Campus Fryslân.

The programme:
1.30 pm Layman's talk
2:00 pm Public Defence

If you cannot attend in person, you can follow the defence via the livestream.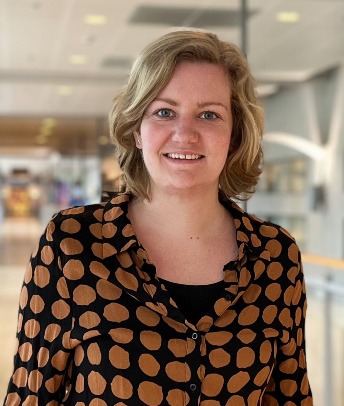 Voeding en lichaamssamenstelling bij astma
In de medische wereld roept het complexe karakter van astma voortdurend nieuwe vragen op. Ondanks vooruitgang in ons begrip van astma, blijven er onzekerheden bestaan over de oorzaken en behandeling van deze aandoening, vooral als het gaat om het type astma dat zich op volwassen leeftijd ontwikkelt.
Edith Visser, PhD onderzoeker bij de Rijksuniversiteit Groningen/Campus Fryslân en werkzaam bij het Medisch Centrum Leeuwarden, heeft zich gericht op de rol voeding en lichaamssamenstelling bij astma.
Astma is een complexe, chronische luchtwegaandoening die leidt tot ontsteking en vernauwing van de luchtwegen. In de afgelopen decennia is het aantal mensen met astma sterk toegenomen. Er zijn vermoedens dat de overgang naar een Westers voedingspatroon hieraan heeft bijgedragen. Dit dieet wordt gekenmerkt door een hoge inname van verzadigde vetten, snelle suikers en sterk bewerkte voedingsmiddelen. Tegelijkertijd bevat het vaak te weinig goede voedingsstoffen, zoals antioxidanten, omega-3 vetzuren en vezels.
Om dit te onderzoeken hebben we een studie opzet op de polikliniek Longziekten in het Medisch Centrum Leeuwarden, waaraan 114 mensen met matig tot ernstig astma deelnamen. We verzamelden gegevens over longfunctie, mate van luchtwegontsteking, bloedwaarden en vragenlijsten over astmacontrole, kwaliteit van leven en zorggebruik. Deelnemers hielden ook drie dagen een voedingsdagboek bij en we maten de lichaamssamenstelling (verdeling van vet- en spiermassa). De resultaten toonden geen duidelijk verband aan tussen de inname van specifieke voedingsgroepen en astmaklachten. Wel ontdekten we dat mensen met lagere spiermassa een slechtere longfunctie en inspanningscapaciteit hadden. Een lage spierkracht werd in verband gebracht met een slechtere astma controle, lagere kwaliteit van leven en hoger zorggebruik. Doordat astma regelmatig gepaard gaat met overgewicht, kan het echter zijn dat een lage spiermassa nog onvoldoende herkend wordt.
We hebben ook onderzocht of voeding het risico op het ontwikkelen van astma op volwassen leeftijd beïnvloedt. Voor dit onderzoek maakten we gebruik van gegevens uit de Lifelines-studie, een groot cohortonderzoek in Noord-Nederland met ruim 167.000 deelnemers. Ook hier vonden we geen verband tussen de inname van 'ongezonde' voedingsgroepen en een verhoogd risico op astma bijvolwassenen.
Hoewel we dus geen directe relatie vonden tussen voeding en astma-uitkomsten, blijft het van belang om een gezond dieet te volgen, vooral bij chronische aandoeningen zoals astma. Een gebalanceerd eetpatroon voorziet in de energiebehoefte voor dagelijkse activiteiten en levert essentiële voedingsstoffen die nodig zijn voor het goed functioneren van de organen, immuunsysteem, en stofwisseling. Verder kan het zijn dat voeding een rol speelt bij specifieke subtypen van astma. Het is daarom voorbarig om voeding als factor bij astma volledig uit te sluiten. Bovendien speelt voeding een belangrijke rol bij gewichtsbeheersing. Het kan indirect klachten verlichten die verband houden met obesitas bij astma. Er zou daarom meer aandacht moeten komen voor leefstijl in de behandeling van astma. Onze bevindingen benadrukken dat de lichaamssamenstelling, met name een gezond gewicht en behoud van spiermassa, belangrijk zijn bij ernstig astma.
Over Edith Visser
Edith Visser (1993) studeerde Voeding & Diëtetiek aan de Hanzehogeschool Groningen en rondde daarna de studie Nutrition & Health af aan de Wageningen Universiteit. In 2018 is zij begonnen met een promotieonderzoek aan de Rijksuniversiteit Groningen, Faculteit Campus Fryslân. Momenteel werkt zij als epidemioloog en postdoc onderzoeker in het Medisch Centrum Leeuwarden.
Op 12 oktober zal Edith het proefschrift 'Diet and body composition in asthma' verdedigen. De promotieceremonie begint om 14.00 uur in het Beursgebouw, Wirdumerdijk 34, Leeuwarden.