De circulaire elfstedentocht: Sneek
RUG/Campus Fryslân organiseert in samenwerking met Provincie Fryslân 'De circulaire 11-stedentocht', een reeks talkshows langs de elf steden waarin je kennismaakt met circulaire economie en duurzaamheid. Professor Gjalt de Jong en Wini Weidenaar hosten deze bijzondere talkshows. Sneek is de derde in de rij na Leeuwarden en Franeker.
We zijn op deze 17de december te gast bij De Walrus in Sneek. Er zijn zo'n zestig gasten in de zaal die allemaal in meer of mindere mate geïnteresseerd zijn in circulariteit of gewoon benieuwd zijn naar de gasten van de avond: Jannewietske de Vries, burgemeester van de gemeente Sudwest Fryslan, Bouwe de Boer van de Elfwegentocht, Anja Kanters directeur van Donkergroep uit Sneek en Bregje Hamelynck, eigenaar van Ús Hôf.
Alle vier zijn ze even bevlogen als het gaat over duurzaam omgaan met onze aarde en verantwoordelijkheid nemen op het gebied van circulariteit.
Zo is Jannewietske blij met de huidige ondernemers in haar gemeente als we het hebben over duurzaamheid maar hoopt ze dat dit in de toekomst alleen maar meer wordt. Maar niet alleen ondernemers en burgers zullen stappen moeten zetten op dit gebied ook voor de gemeente is er nog genoeg winst te behalen op dit gebied en daar maakt Jannewietske haar graag hard voor.
Bouwe zijn ambities op het gebied van de Elfwegentocht gaan dit jaar verder dan alleen Friesland. Het gebied breidt zich uit naar Groningen en Drenthe. Niet alleen duurzaam vervoer maar ook plasticvrij krijgt een podium. Hoe Bouwe de mensen om zich heen altijd zo enthousiast krijgt? 'Ik set troch wer in oar ophald' aldus Bouwe. Daarnaast is hij een ster in het verzamelen van de juiste mensen om zich heen waardoor je nooit alleen staat met een nieuw initiatief.
Anja Kanters heeft als doel met het bedrijf Donkergroep om in 2035 volledig circulair te opereren en als je haar hoort vertellen hoe ze dit aan gaan pakken kun je niet anders concluderen dat de kans groot is dat dit gaat lukken. De kracht zit in het gehele bedrijf, in alle medewerkers. Als iedereen mee wil doen op zijn of haar gebied van secretaresse tot de tuinders zelf, alleen dan werkt het. Wij hebben gebruik gemaakt van de methode Natural Step. Dit is een methode die je intern inzet en waarin werknemers worden meegenomen in het verduurzamen van de organisatie. Er is plek voor iedereen en ieders gedachtegoed. Uiteindelijk begin je met iedereen die wil verduurzamen en deze groep wordt steeds groter. 'Natuurlijk is het soms lastig om je positie in de markt te houden als je ook je klanten zo duurzaam mogelijke keuzes wilt laten maken maar het is wel de toekomst waar we mee te maken hebben en waarin we onze verantwoordelijkheid moeten nemen' aldus Anja.
We sluiten de avond af met Bregje van Us Hof!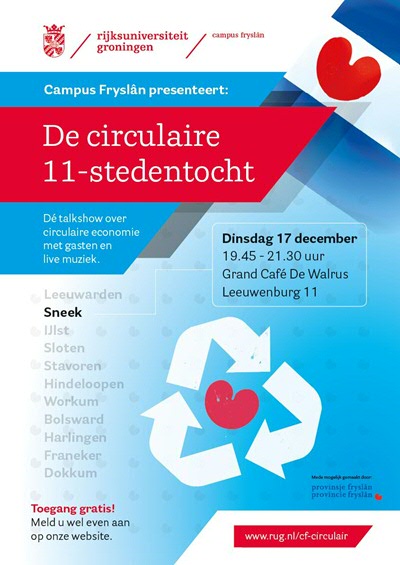 | | |
| --- | --- |
| Laatst gewijzigd: | 25 november 2021 16:31 |