Organizing for Sustainability: A Guide to Developing New Business Models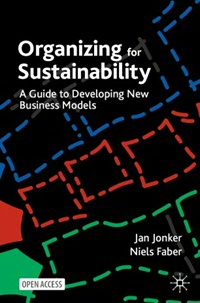 This summer the book 'Organizing for Sustainability: A Guide to Developing New Business Models' has been published, an initiative of dr. Niels Faber and prof. dr. Jan Jonker who wrote and edited this work in collaboration with 10 co-authors.
The need for organizations to adopt sustainability in their core business is imminent. If the latest IPCC report has not yet convinced about the dangerous effects of climate change, the heat waves and floods of past summer surely must have. The central role humans play is irrefutably established. The time is now to make the necessary changes. The question is who and how? In the book 'Organizing for Sustainability', an organizational approach is chosen. Niels Faber and Jan Jonker present the Business Model Template (BMT), a comprehensive approach for modelling sustainable, social, and circular business models. The book is meant for students and entrepreneurs who either like to develop or change a business model. The Business Model Template is the result of many years of research, and has been extensively tested in practice.
The book is published by Palgrave/MacMillan, a Springer subsidiary. The e-Book version is available as an Open Access publication under a Creative Commons license. Publication: Jonker, J., and Faber, N. (2021). Organizing for Sustainability: A guide to developing New Business Models. Cham: Springer International Publishing.
Massive Open Online Course (MOOC)
Accompanying the book 'Organizing for Sustainability', Niels Faber and Jan Jonker have realized a Massive Open Online Course (MOOC) with the same title. In seven chapters and 54 units, MOOC participants develop or change their own business model guided by the Business Model Template. Next to instruction videos, the MOOC offers a rich variety of assignments, multiple choice questions, and additional learning material. The MOOC may be used as a standalone course, or be incorporated in or used as support to existing curricula and courses.
Initiative for the MOOC Sustainable Organizing was taken by Saxion University of Applied Sciences. The MOOC was realized in collaboration with 32 people from 12 higher education institutions, and various business organizations and (semi)public institutions. This project was funded by the SURF Foundation.
The MOOC is available as an Open Access course, hosted on the Open edX platform.
About the authors
Dr. ir. Niels Faber is assistant professor Circular Entrepreneurship at Campus Fryslân, University of Groningen. His research focuses on business models for the circular economy and sustainability. This is elaborated in the themes (1) new forms of organizing, (2) transition towards a circular economy, and (3) impact of new business models. He published various academic and professional works on these topics. He and Jan have collaborated in the past years, creating a body of knowledge around business models for sustainability, inclusivity, and circularity, resulting in a series of columns, papers, books, courses, and events on the topic.
Prof. Dr. Jan Jonker is emeritus professor Sustainable Entrepreneurship at the Radboud University Nijmegen. In past years, his research concentrates on the need for transition to realize sustainability and circularity with a strong focus on sustainable business modelling. For many years, he and Niels collaborated writing columns, papers, and various publications on sustainability, the circular economy, business modelling and transition.
| | |
| --- | --- |
| Last modified: | 25 November 2021 3.40 p.m. |