Student projects class of 2018/2019
Here you can find an overview of all student projects, including the abstracts and presented posters.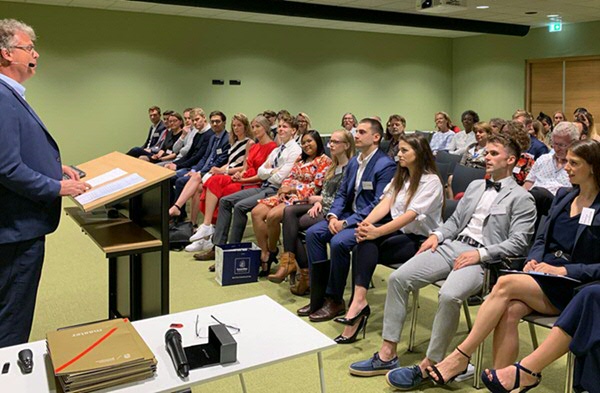 ---
Clara Amend: Can Social Norms Motivate Thermomix Users To Eat Sustainably?
Modern food systems, but especially animal farming, are found to be the leading driver of global climate change, accounting for 30% of the world ́s greenhouse gas emissions. Simultaneously, unhealthy diets, consisting of a large proportion of animal source food intake, are one of the most significant death causes and will force health insurances to face significantly increasing costs. Therefore, a transformation towards sustainable dietary choice by increasing plant-based while decreasing animal source foods, which will create environmental, social, and economic value, is urgent. By applying value orientation and nudging theory, this research proposes (1) a positive impact of social norms on sustainable behavior, (2) increased by self-transcendence values. The hypotheses were analyzed using ordered logit models based on data obtained from questionnaires, concluding that, although a self-transcendence value orientation enhances sustainable dietary choice, social norm nudges proved to be ineffective.
---
Martin Bakardzhiev: Liquid Carbon Dioxide Markets Of DMT Environmental Technology
Carbon dioxide, popular as a pollutant and main contributor to the global greenhouse effect, carries capabilities of utilization in a number of industries, changing its impact on the planet. A biogas upgrading technology market leader seeks ways of adding value and sustainability to its products, by adding to them a carbon dioxide capture and liquefaction system providing liquid carbon dioxide ready for utilization. This research examines the viability of such a venture by means of conducting a qualitative marketing intelligence research via the gathering of data through, interviews with key informants and accredited online sources. The research aims to provide insight on market factors which the company could consider before entering the carbon dioxide industry in three strategic regions. The findings suggest that despite high entry costs and requirements of market preparedness, the industry is growing and is providing sustainable returns in the regions examined. Sustainable in the making and in its uses, liquid carbon dioxide, used mainly in the food and beverage industry, is expanding its applications and utility. In a positive correlation, with the rise in sectors of use of the product, the return on investment evidently gets larger and quicker.
---
Roxanne Cacpal: One Step Towards Circular Procurement
Omrin, a waste management company, decided to contribute to the goal of the Frisian province to be leading in the circular economy, by improving its circular procurement. To do so, the company seeks to develop a performance measurement framework. However, based on existing literature, there is not yet an agreed upon definition for circular procurement which is the starting point of developing such framework. Therefore, this research sought to construct a preliminary definition based on the shared understanding within and outside of Omrin. After conducting an exploratory qualitative research, a shared understanding around the aim, what procurement is, what it procures and how to procure it was found. Circular procurement ultimately aims for closed loops, however, including slow loops in the process. This is reached by purchasing or collecting products, services and waste by proceeding according to the circular procurement hierarchy and the circular principles with methods applied within the organisation or in collaboration with actors along the chain, including suppliers, consumers, regional actors, producers. Based of this understanding, a definition was formulated, and examples of indicators can be listed by applying circular procurement to the activities of Omrin and structuring them in three levels: product, supplier and system level. To identify the activities for which the impact can analysed.
---
Jeroen Dijkstra: The Quest For Sustainable Banking: Can Nudging Stimulate Customers Towards Digital Banking?
Banks receive a considerable amount of pressure from diverse stakeholders to carry out business responsibly and ethically. Therefore, the sector is in search of implementing sustainable developments and innovative banking processes. One way for banks to become more sustainable is to 'become paperless'. However, the banking sector is dependant on the customers' willingness to adopt these initiatives. To change customer behaviour by influencing the decision-making process, banks can implement nudges. However, it remains unknown which nudge tools are effective and how they should be presented. This research, therefore, explored how ING can nudge customers towards digital/paperless banking. Applying nudging and consumer behaviour theory, this research proposes the banking sector to influence customer behaviour by suggesting digital/paperless banking as the 'default option', based upon results obtained from twelve interviews. Respondents have the feeling that they should complete the process in the proposed way, and that it is logical, to do so. They do not look for other options, and when the customer is still in doubt, this nudge serves as the final push to choose for digital communication.
---
Mariska van den Ende: Be Circular, Buy Circular. A Research Into Drivers And Barriers In Supplier Relationships To Define Circular Purchase Strategies
Current frameworks that develop firm purchasing strategies are insufficient for a firm to reach its sustainable development goals. Moreover, it has been widely recognized that a company is as sustainable as its upstream supply chain, and therefore managing and identifying different supplier relationships types is particular important for the strategic function of the firm. This exploratory qualitative research builds upon Cousins (2002) existing supplier relationship model that enhances purchasing strategies and aims to identify the drivers and barriers to circular procurement within supplier relationships. Therefore, strategies are developed that can increase the circular purchase within an organization.
---
Valerija Golubić Woudstra: Creating Social Value In The Triple Bottom Line: The Case Of Farm Flower Fragrance
Poster Valerija Golubić Woudstra
This research aims at investigating how a nascent enterprise, already addressing environmental and financial sustainability, can create additional social value by providing work to hard-to-employ people. The theory regarding hard-to-employ groups as resources, social support needed for their labour market integration, and the role of alliances can play in it form the theoretical basis of the research. A multiple case study was conducted among organisations employing or supporting employment of three hard-to-employ groups – refugees and asylum seekers, people with autism spectrum disorders, and female victims of abuse. The research identified generalised opportunities and challenges of each of the groups in relation to work, and the kind of support that needs to be provided to them at the workplace. The conclusions point out to the need of tailor-made approach to each person from the three hard-to-employ groups, the presence of different forms of social support, the necessity of the awareness regarding the groups' backgrounds, and the working environment that can contribute to their better labour market integration. Alliances are recognised as helpful in resource mobilisation, even though they might carry certain challenges.
---
Johannes de Groot: How To Improve Visibility Of Sustainability Performance By The Banking Sector To (Potential) Consumers?
The growing demand to become sustainable is a current issue that also applies to the banking sector. However, there is a lot confusion about the way in which consumers of a bank can be effectively targeted in order to increase the visibility of the banking sector's sustainability performance. Existing literature on the visibility of sustainability performance emphasizes the need for better communication of such performance, yet relevant studies as to how to accomplish this are currently lacking . The purpose of this research is to fill this information gap and to contribute to the growing literature on the visibility of sustainability performance. A single case study of the two biggest departments of Rabobank in the province of Friesland was performed in order to bridge this research gap. Results reveal that making the sustainability performance of the banking sector visible is not straightforward and being hampered by a range of issues. Nonetheless, the research has also allowed propositions to be made that may a long way to overcome such issues.
---
Antoniya Grozdanova: Societal Value Creation In The Circular Public Procurement
Public procurement is a phenomenon involving institutions which make purchasing decisions on behalf of the society, and businesses which offer the products or services that can be purchased. For circularity to take a leap forward in the Netherlands, it is important that this is incorporated into public procurement, which is considered to comprise a large part of the country's industry. In support to companies and governments aiming for circular public procurement, this paper aims to investigate how societal value can be created through the implementation of circularity in public purchasing. A case study of a public procurement project of bridges is represented in this research. The roles of companies, governments and other stakeholders are discussed, with the aim to discover how they collaboratively create societal value. Finally, a multi-stakeholder approach is suggested as a strategy for businesses and the government to successfully create societal value in the circular public procurement.
---
Mariska Helmus: How Can Creative Organizations Retain And Valorize Their Knowledge? Strategies to capture know-how in the creative sector
Creative organizations often struggle with preserving their knowledge . This type of knowledge often is tacit, such as skills and techniques, which is hard to capture and to preserve. Therefore, the purpose of this research is to investigate which strategies organizations use to retain and to valorize their knowledge about crafts, creative processes and sustainable techniques. In this qualitative research, eight best practice organisations in the creative sector were interviewed in order to better understand these processes. Results show that video learning and a CoP can be effective tools for retaining and valorizing tacit knowledge. Moreover, to optimize valorisation, involving the target group and measuring impact are essential. A practical step-by-step plan on how to optimize valorization processes, is included.
---
Sebastian Karges: Driving Innovation: A Business Modeling Exercise For Sustainable Mobility
This thesis research intends to deliver crucial elements for a sustainable business model to the Netherlands-based startup Hopon. The company, striving to provide firms with a carpooling solution, undergoes a business modeling exercise to achieve a sustainable business model. After reviewing antecedent literature, a qualitative research through a combination of action research and case study research is conducted. Empirical data from semi-structured interviews with sustainable entrepreneurs is compared and contrasted to detect important core elements and success factors among sustainable ventures. These elements combined create the basis to forge a suitable and sustainable business model for Hopon that is grounded in research and practice.
---
Antonia Kovacheva: Does It Pay To Change Consumer Behavior?
The Sustainable Development Goals of the United Nations (2015) report the importance of social well-being and health as well as the alarming need for businesses to work towards sustainable consumption and production practices. Consequently, non-sustainable business practices must be forgotten once and for all, and creative actions could take their place. Changing consumer behavior is a complex process, which could be addressed on many levels, simultaneously. Jackson (2005) showed that changing behavior only on micro-level, where individuals take place, is slow and inefficient, hence businesses are required to take further actions towards changing consumers' behavior. This research aims to provide information on how business actions can drive consumers towards sustainable consumption regarding organic foods. For the purpose of this research, seven businesses, who are operating within the organic food sector either in the Netherlands or in Bulgaria were interviewed to reveal their opinions about the effectiveness of the current business actions and practices. Additionally, these interviews are targeted at unveiling whether or not the companies are driving consumption towards a healthier well-being and sustainable future and how. Even though participants represent diverse organizations, varying in size, scale and scope, six out of seven recognized the importance of education in order to achieve sustainable consumption behavior, which could be replicated by the upcoming generations. The majority of the participants believe that business actions have the ability to drive and change consumer's behavior with regards to sustainable consumption of organic foods, especially if businesses receive support and collaborate with external parties.
---
Bernd Nijen Twilhaar: Route Sdg 6: An Exploratory Study On How To Bridge The 85% Water And Sanitation Financing Gap. An Analysis Of The International Bop Water Development Financing Sector
SDG 6 aims to provide all humans with safe freshwater and quality sanitation. This research focuses on analysing the international BoP water development finance sector and how the 85% water and sanitation financing gap can be bridged to attain SDG 6 by 2030. Theories from Bottom of the Pyramid entrepreneurship, investment and transdisciplinary research as well as results from semi-structured interviews yielded that fundamental problems in the sector exist which need to be addressed to mitigate and remove the many investment risks. Innovative business models and concepts such as blended finance are being tested to help bridge the financing gap.
---
Germán Ramos García: Private Investment: Key Aspects For Getting A Boost On The Startup's Development
One of the significant causes of climate change is the CO2 emissions from fuel cars. Startups are the ones changing the way the mobility industry works. Innovating in business and economic models, startups help develop new transport systems to commute. Hopon is one of these startups who aims to reduce the CO2 emissions by carpooling to the workplace. To develop its projects, Hopon looks for private investment to fund its business. Different sources are already in the market, but the entry barrier is elevated due to the investor's requirements. This research studies the different aspects investors consider when investing and how can Hopon attract investors. The results show investor's expectations from sustainable startups in order to invest in them. A new theoretical model is proposed to help sustainable startups meet investor's requirements and boost their development.
---
Thor Ruiter: Solar Project Planning Outcomes: A Quantitative Analysis Of The Role Of Community Acceptance
Despite widespread support for renewable energy, projects still often face strong resistance at the local level, which complicates implementation. Consequently, it is important for developers to determine what causes this resistance. Acceptance at the local level is often referred to as community acceptance, this study examines what factors related to community acceptance affect the likelihood of positive planning outcomes for solar energy projects in England. Results show that contextual factors relating to the project are most important, moreover, strong regional variations are found.
---
Leander van der Wal: How to 'bridge' the circular value gap: An explorative case study in public tendering of circular bridges
Literature states that corporations have been calling for guidance in implementing circular strategies for sustainable development. A deficiency of case studies makes it challenging for companies to understand how to innovate their circular business models. Also, the holistic approach of measuring tripe bottom line value creates several challenges for value capturing through circular business models. For instance, how the created value can be captured by the organization instead of spilled over to another business or to society as a whole. Therefore, this research addresses the following research question: "How can triple bottom line value be captured through a circular business model?". This research question is investigated in the context of public tendering of circular bridges. Interviews are conducted with employees from the engineering and advisory company Royal Haskoning DHV, as well with civil servants and experts from different governments, waterboard and circularity expertise centers. Results show the importance of a good value proposition for circular business model innovation. Also, acquisition & maintaining of specific knowledge and triple bottom line measurement systems prove to be essential for circular value capturing. Based on the results and existing theory a model is designed which presents the main challenges of circular value capturing through business model innovation. The identified challenges give the opportunity to present solutions on how to overcome them. These solutions are translated into recommendations for businesses in the construction sector and for local governments. The final aim of this transdisciplinary study is to re-integrated the aggregated knowledge into the societal practice.
---
Miron Westerhof: A Thread For The Environment. A Research Into The Type Of Companies To Establish Mature Customer Relationships With
The textile industry has been condemned to be one of the world's worst environment polluters. The textile and fashion industry is an interesting industry in relation to the circular economy. Organisations can work in ecosystems and create strong customer relationships in order to drive this shift together. Texperium is one of these companies that works towards making the textile industry more circular by producing yarns made from 'waste' resources. Semi-structured interviews have been conducted to, with the use of the relationship maturity framework, prescribe a recommendation on what type of companies Texperium can establish mature relationships with. The results show that well-established companies with their own domain of expertise are most promising when it comes to establishing mature relationships. These types of companies highly value trust, joint conflict resolution, close professional contact, and mutual goals. However, these companies do not want to put too much effort in their supplier relationships.
| | |
| --- | --- |
| Last modified: | 25 November 2021 3.41 p.m. |