Student profile and testimonials
Our students want to save the planet for future generations by contributing their knowledge and skills to a shift towards sustainable business models. The programme appeals to those looking for an intellectual challenge combined with personal growth.
Career prospects
Policymaker
Project manager

Internal consultant

SME consultant

Sustainability officer

Sustainable entrepreneur
Student testimonials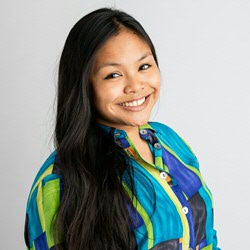 Roxanne Cacpal
"While looking for a master's in international development, I found the programmes not practical enough. Then, the multidisciplinary aspect of the MSc Sustainable Entrepreneurship immediately intrigued me. It is still a Master of Science, so it is definitely not for the ones allergic to academic papers. However, through guest lectures, assignments and the collaborative final research project, the theories and academic research are applied to real life examples. What I really like about this master is that the complexity of sustainability and entrepreneurship challenges our critical thinking in the face of controversial circumstances. The programme also tests our judgement to evaluate a situation, a company and our own leadership. This programme will not teach you the tips and tricks to run a business daily, but instead it will show and encourage you to think of alternative ways of doing business other than the conventional solely money-driven fashion. The atmosphere at Campus Fryslân is very familiar, the teachers and staff are always open for discussion and to advise the students. The faculty is quite responsive to our needs and feedback. There is one untranslatable Dutch word to describe the Campus: "gezellig"." - Roxanne Cacpal
Germán Ramos Garcia
I chose the master in Sustainable Entrepreneurship because during my Bachelor in "Business Management", I had one subject called CSR which I found very interested and I realized that I wanted to discover more about it and built my own business to help improve the planet earth. With this master, my knowledge about sustainability has increase a lot. I am now able to advise other companies and friends about sustainable actions. As we are a small group, the classes are very dynamic and that allow us to learn faster and also collaborate with every classmate. On the other hand, I found the master program very academic. It teaches you how a sustainable entrepreneur is but, in my case, a classmate and I had to become an entrepreneur outside the university. I adore Leeuwarden because it is a small city full of life. You don't need a car because you can get everywhere by bike in 10 minutes. Also, you have everything you need and there are always activities to do with other students.
| | |
| --- | --- |
| Last modified: | 25 November 2021 4.30 p.m. |