Kennis- en netwerkevent Health 2023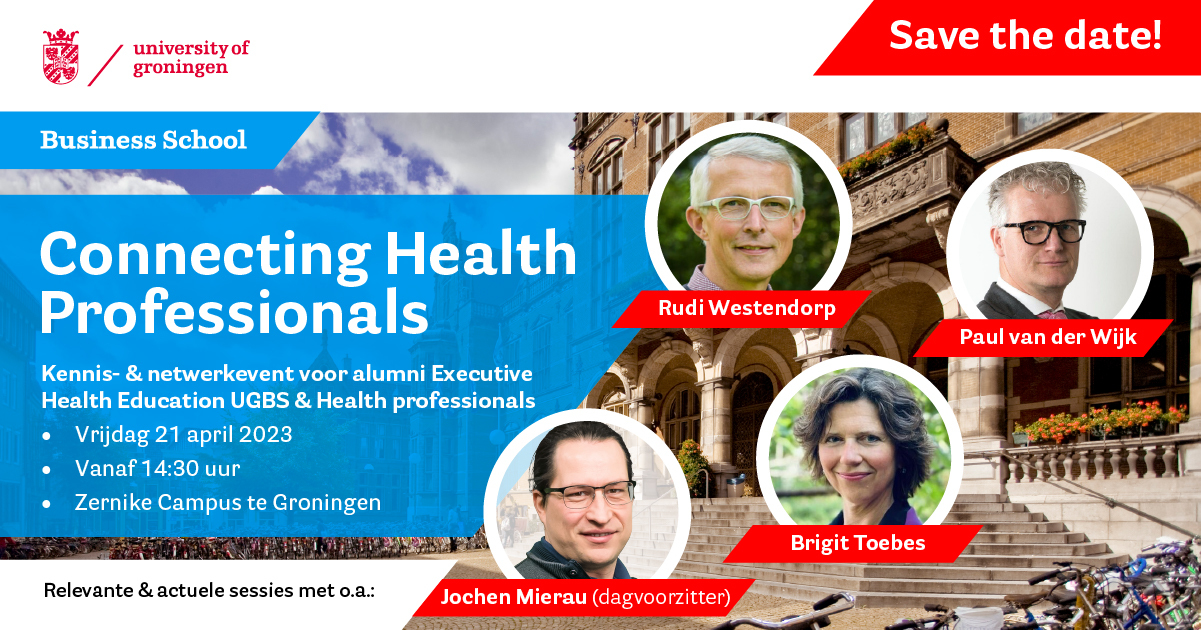 Voor professionals in zorg en welzijn die op de hoogte willen gebracht worden over recente ontwikkelingen met betrekking tot het gezondheidsdomein.
De University of Groningen Business School organiseert op vrijdag 21 april 2023 een kennis en netwerkevent voor alumni Executive Health Education UGBS en Health Professionals op de Zernike Campus te Groningen.
De zorgkosten rijzen de pan uit, de werkdruk is hoog en er is een structureel tekort aan zorgpersoneel. Ons zorgstelsel staat onder hoogspanning; wordt het eens tijd voor een reset? Hoe zorgen we dat doelstellingen van het Integraal Zorgakkoord behaald worden en de zorg voor de toekomst goed, toegankelijk en betaalbaar blijft? De tijd voor compromissen lijkt voorbij en het roer moet om; het moment is daar om radicaal betere zorg te ontwerpen. Maar wie is daarvoor verantwoordelijk?
Moeten de overheden goed gedrag belonen en slecht gedrag straffen?
Moeten zorginstellingen hun verantwoordelijkheid nemen en gezamenlijk met zorgverzekeraar nu echt gaan inzetten op preventie?
Is het tijd voor het stimuleren van gezondheidskracht en positieve gezondheid?
Kan technologie een uitweg bieden om de juiste zorg op de juiste plaats te bieden of de zorg als systeem te ontlasten?
Tijdens de Connecting Health Professionals Alumnidag op vrijdag 21 april zullen deze thema's aan bod komen. Een ijzersterke line-up aan praktijkmensen en academici neemt jullie mee in de discussie.
Naast de inhoudelijk kant is het natuurlijk ook een mooie gelegenheid om uw netwerk verder uit te breiden! Meld u nu dus snel aan en kom samen met uw collega of mede zorgprofessional naar Groningen voor een inspirerende vrijdagmiddag!
Sprekers:
Bekijk hier de lijst van sprekers van het 1e Kennis- & Netwerkevent in 2023!
| | |
| --- | --- |
| Laatst gewijzigd: | 01 juni 2023 11:36 |