Pieter Jansen, hoogleraar Controlling en opleidingsdirecteur EMFC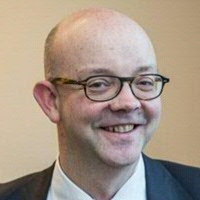 'Een bijzondere dynamiek waarin iedereen van iedereen leert''
'Cijfers zijn alleen boeiend in de context van hun toepassing; in de vertaalslag die je maakt naar strategie en bedrijfsvoering. Dáár bereiden wij jaarlijks een selecte groep gemotiveerde mensen met relevante werkervaring op voor.
Veel organisaties hebben aantoonbaar behoefte aan een nieuw type controller. Evident is dat die controller een wetenschappelijke, beroepsgerichte opleiding in accounting en financieel management als basis heeft. Minstens zo belangrijk is een mix van sociale vaardigheden, zodat je anderen weet te overtuigen en beïnvloeden en dat je leiderschap durft te tonen. Die controllers leiden wij op.
De lat ligt hoog. Wij zijn dé opleiding van controllers die de top willen halen in een complex vakgebied. Om die ambitie waar te maken, kent ons programma drie pijlers: excellente kennis op academisch niveau; concrete, aan de praktijk ontleende studiecases en interactieve training van persoonlijke vaardigheden. Ons docententeam weerspiegelt die drie-eenheid. Het is een breed, gepassioneerd team met wetenschappers en praktijkmensen, waar ik buitengewoon trots op ben.
Bij ons weet je nooit vooraf hoe een college gaat lopen. Er is ruimte voor spontaniteit, improvisatie en discussie. Dat kan doordat we de nadruk leggen op interactieve werkvormen met gemiddeld vijftien studenten per college. Dat geeft een aanstekelijke dynamiek, waarin we van elkaar leren. Ik geef zelf colleges en geniet telkens weer van de onvoorspelbaarheid en synergie.
Zo onvoorspelbaar als de colleges dikwijls zijn, zo zeker is het resultaat van de opleiding. Van veel oud-studenten weten we dat ze meedraaien in de top. En dankzij de hechte contacten en levendige netwerkactiviteiten, levert dat weer een permanente stroom aan actuele studiecases op.'
---
Prof. dr. E.P. (Pieter) Jansen is als hoogleraar Controlling verbonden aan de Rijksuniversiteit Groningen. Sinds 2016 is hij tevens opleidingsdirecteur van de Executive Master of Finance and Control. Daarvoor was hij onder meer directeur van enkele master- en bacheloropleidingen en universitair docent. Pieter is aan de Rijksuniversiteit Groningen gepromoveerd in de Economische Wetenschappen. Hij studeerde politicologie en bestuurskunde aan de Universiteit Leiden.
| | |
| --- | --- |
| Laatst gewijzigd: | 03 maart 2020 14:38 |