Predicting effect cancer treatments
Kathrin Thedieck (Pediatrics, UMCG) conducts research on the disease Tuberous Sclerosis Complex (TSC) . This is a congenital condition in which benign tumors occur in almost all organs and tissues. Thedieck wants to develop a model that can predict whether a certain cancer treatment will have the desired effect. If this works for TSC , the model is also relevant for the treatment of (malignant) cancers as breast cancer, colon cancer or brain tumors.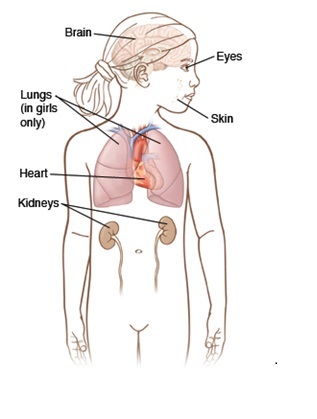 TSC is often accompanied by epilepsy, learning disabilities, skin abnormalities, kidney, eye, and heart problems. TSC affects at least 1 in 10,000 people. Approximately two million people suffer from this desease worldwide. TSC can not be cured for the time being, so the treatment is limited to combat the symptoms.
The tumors which arise from the disease, are in the first instance benign, but may lead to problems depending on the location and the size of the tumor. The symptoms vary greatly from person to person. Some patients have only limited skin lesions, other patients are more affected sometimes become heavily dependent.
Mathematical models
A unknown combitnation of factors affect this disease. For example: What is the impact of previous drug treatments? What processes in the human body, and any combination of these processes, lead to a the arise of a sudden aggressive cancer?
Actually, this problem plays a role in all cancer treatments where the patient suddenly has no benefit from the conventional treatment and the tumors seems to grow. In order to investigate this, Thedieck analyzes the processes which have an impact on TSC in tumor development and processes them in dynamic, mathematical models. With the aid of these models, an attempt is made to predict the outcome of therapeutical treatments. When this is successful for TSC, the model is also relevant for cancer types with similar genetic changes as breast cancer, cancer in the colon, brain tumors, etc.
In honor of its 100th anniversary, family company Koninklijke Van Wijhe Verf raised money for the research of Thedieck. On May 30th 2016, CEO Marlies van Wijhe, RUG alumna Business Administration, and her sister Marijke Van Wijhe, manager design and identity, came to Groningen to hand over a sum of € 15,500 to Kathrin Thedieck. For Thedieck this extra money is very important. She can now develop a proof of concept. In total Thedieck needs approx. € 70,000. With the help of the Ubbo Emmius Fund an amount of € 51.000 was previously collected, in total now almost reaching the goal of € 70,000 .
More information:
Van Wijhe Verf supports research in honor of its 100th anniversary
| | |
| --- | --- |
| Last modified: | 19 December 2022 2.51 p.m. |