Zpannend Zernike 2023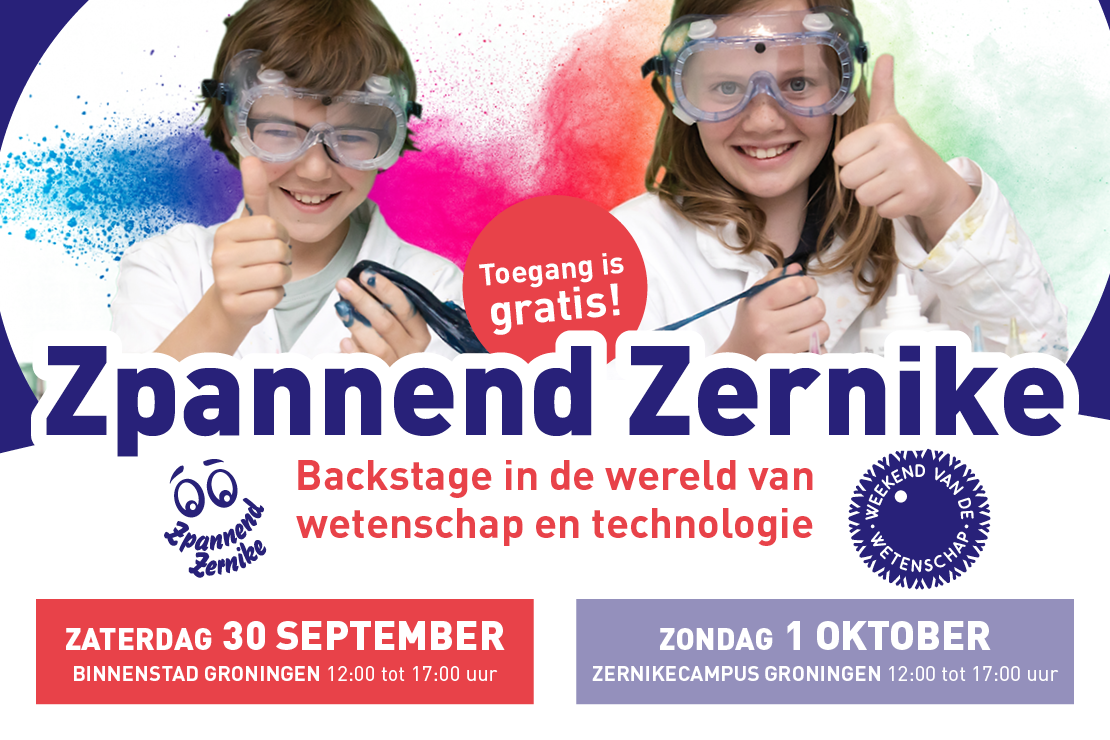 The last weekend of September is all about science in Groningen. The weekend starts on Friday 29 September with the European Night of Researchers in Forum Groningen. Contrary to what the name suggests, this night is not by and for the researchers, but intended for all curious Groningen residents. Between 7 pm and 11 pm, Forum Groningen will be transformed into a science festival full of science comedy, discussions, mini-lectures, music and experiments.
On Saturday 30 September and Sunday 1 October it is time again for Zpannend Zernike, the annual free science festival for primary school children. On Saturday 30 September you will find Zpannend Zernike at various locations in the city center and on Sunday 1 October you can go to the Zernike Campus to get started with science!
Zpannend Zernike : The Groningen science festival for young and old!
Saturday September 30 & Sunday October 1, 2023, 12:00 PM - 5:00 PM
Zpannend Zernike is the annual free science festival for children of primary school age. On Saturday 30 September & Sunday 1 October from 12:00 pm - 5:00 pm there is plenty to do and discover for children in Groningen. But (grand)parents and supervisors will not be bored either!
Program
On Saturday 30 September you will go on a journey of discovery through the alpha, gamma and medical sciences in the city center of Groningen. Experience what it's like to dig for dinosaur bones like a real archaeologist and learn what the DNA of a banana looks like. Or take on the role of a judge to judge whether someone is guilty or not. And who wouldn't want to learn how to program, solder or build their own robot? Find out if you are a top athlete, play with a robot or discover how fireworks work! Take part in all kinds of experiments, challenges and cool science shows. Discover it all in the Academy Building, Forum Groningen, the University Museum, the Young Researchers, DOT, ERIBA/UMCG or at one of the other locations.
On Sunday 1 October you can immerse yourself in the fascinating world of natural sciences, technology and energy at the Zernike Campus. You do experiments in the field of energy and movement. And discover how to build a house that can withstand earthquakes. Or experience what the world looks like through VR glasses and take a dream flight in the flight simulator. UMCG-PARTREC, Bernoulliborg, Kapteyn Institute and SRON, Hanze University Groningen, EnTranCe, ZAP, Building, WarmteStad and TNO are happy to welcome you.
The European Night of Researchers and Zpannend Zernike are co-funded by the European Commission, under the Horizon 2020 Research and Innovation programme, grant agreement No. 101060416.
| | |
| --- | --- |
| Last modified: | 22 June 2023 10.20 a.m. |