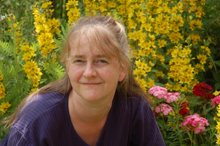 The adaptable genome
A large parts of the genome has evolved to deal with the ecological interactions of an organism with its environment. Most of the traits or processes that have evolved for these interactions are complex, with many genes involved, and often the ability to respond to variation in the environmental conditions. For the analysis of such a complex genetic architecture of traits and processes, the genomic toolbox is required. These tools allows us, for the first time, to trace the impact of the ecological interactions on the evolution of the genome. We aim to elucidate the genomic variation and genetic networks underlying the evolution of complex traits in ecological interactions, using a combination of experimentation, genomic approaches and bioinformatics.
We study the evolutionary genomics of ecological interactions in Drosophila fruitflies, where we can combine our extensive understanding of their ecology with the formidable molecular toolbox and knowledge on mechanistic processes for various life history traits. In my group, we investigate the changes in the genome that occur during 1) host-parasite co-evolution, 2) competitive turf wars for food, 3) sexual conflicts, and 4) the composition of the microbiome.
| | |
| --- | --- |
| Last modified: | 18 May 2018 12.29 p.m. |