Bea ten Tusscher, ambassador in Oslo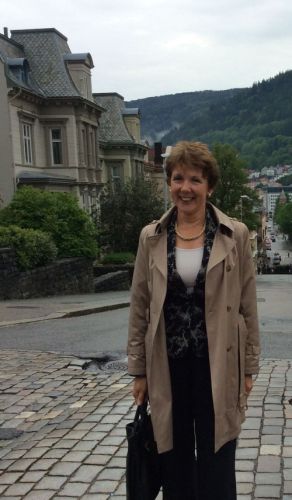 Bea ten Tusscher (53), alumna in Swedish, has worked as a diplomat in Dutch embassies in the Czech Republic, Zimbabwe, Bangladesh and Guatemala. Last year, she returned to her Scandinavian academic roots as ambassador in Oslo.
Bea ten Tusscher started studying Swedish more or less by accident. 'I wanted to do something in tourism or journalism, but I didn't get a place. So Swedish it was. I think subconsciously I wanted to learn more about the country where Pippi Longstocking lived, and the freedom and beauty of the nature there, but I was also fired up by the passion of Professor Amy van Marken (1912-1995).' After graduating, she applied to the Foreign Office and was accepted for the diplomatic training programme.
As a young diplomat, she was posted to the Dutch embassies in Zimbabwe and the Czech Republic, and became ambassador in Guatemala and Bangladesh. 'They were good times, but I really wanted to get back to the roots of my degree programme and to Europe. To a country where the issues are the same as those in the Netherlands, such as climate, energy and social security.'
'Soon after I´d presented my credentials to the Norwegian King, King Willem-Alexander and Queen Máxima paid a visit to Norway. It was very exciting. Everyone at the embassy rolled up their sleeves to prepare every detail of the royal visit. My work also involves visiting companies and attending receptions and seminars. I recently visited a major oil and gas trade fair in Stavanger, where forty Dutch companies were presenting themselves. Helping Dutch companies to establish a business here is part of my job and I always put in a good word for them. Although having said that, most Dutch people don't need much help finding their feet in Norway. The countries seem to match well; we have the same mentality, the same way of communicating. And like the Netherlands, Norway isn't particularly keen on hierarchical organizations. I think that the Dutch tend to forget the attractive market opportunities just an hour away by plane.'
Biking with studded tyres
'I always go to the embassy by bike in the mornings, and have special studded tyres for when it snows. I'm doing my bit to promote the Dutch biking tradition. Although biking isn't as popular here as in Denmark, it seems to be catching on. Sport and healthy living are high on the agenda. The huge distances mean that I spend a lot of time travelling through the region. One of my favourite trips was to Tromsø, in the far north of the country bordering the Arctic. It was dark all day, a thick layer of snow covered the ground, and it was incredibly exciting. Next year, I'd like to visit Spitsbergen, where Dutch researchers from the University of Groningen Arctic Centre and Utrecht University are working. We'll be organizing a seminar about the Arctic region soon. Interest in the area is growing and the Netherlands is an important player with a long history there. '
'I felt at home immediately in Norway. Speaking the language helps: the Norwegians understand Swedish perfectly, even though my accent makes them think that I'm from Finland! The other thing I like about Norway is the good position that women have in employment. In the Netherlands, discussions about this point tend to fizzle out. The Norwegians have a more dynamic attitude and everything is efficiently regulated. There's a quota for women in high positions. Help with childcare is generous and there are plenty of parental leave schemes, which include fathers so that parents really can share childcare. They've taken it seriously; women can simply continue where they left off when they return after having a baby. In addition, there's a good work/leisure time balance; life here is calmer, less stressful. At the emigration fairs I go to in the Netherlands, I see more and more young people weighing up the pros and cons of this type of lifestyle. I think we'd do well to take a leaf out of the Norwegian book in this respect. '
Text: Douwe van der Tuin
(Source: Broerstraat 5, the alumni magazine of the University of Groningen)
| | |
| --- | --- |
| Last modified: | 15 September 2017 3.15 p.m. |