Floor Rink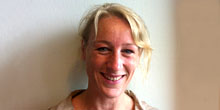 Floor Rink is a Rosalind Franklin Fellow and associate professor at the University of Groningen in the Netherlands.
She is interested in the social psychological mechanisms underlying group behavior, and examines the role of identity issues in the interplay between individuals and groups. Using this approach, she has specialized herself in two areas; (1) diversity in organizations and (2) group receptivity to deviance and group reactions to status differentiations.
In the first area, she uses a social identity framework to examine the conditions that facilitate the upward mobility of minority members within organizations and the circumstances under which members of diverse work teams are expected to function most effectively.
The second area is concerned with the question when groups are open to criticisms from in-group members (e.g., moral rebels) or out-group members (e.g., newcomers) and how group members perform under different hierarchical structures.
Central to this line of research is whether, and if so when, rebels and low status group members instigate change and have a positive influence on teams.
| | |
| --- | --- |
| Last modified: | 23 September 2020 11.31 a.m. |