Beatriz Noheda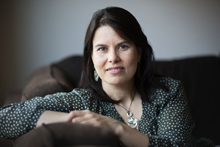 Noheda's expertise is on so-called ferroelectric and piezoelectric materials.
These are used in multiple applications from memories, heat detectors, ultrasound generators in sonars or echography devices, micro-positioners, shock detectors (e.g. in airbags), diesel injectors, ink-jet printers, gas lighters, accelerometers, dentist scalpels, position detectors, alarm buzzers and many others.
Noheda investigates novel ferroelectric materials that are smaller, lighter and produce larger responses than existing materials. They cannot be synthesized by standard chemistry routes and are created atom-by-atom at very high energies under vacuum conditions in order to obtain unprecedented control at the nanoscale.
She aims to obtain deeper fundamental knowledge of the mechanisms that lead to large responses in thin layers or small structures of these technologically important materials.
| | |
| --- | --- |
| Last modified: | 13 April 2021 12.55 p.m. |