Op naar Stockholm - en moet die Commandeursketting eigenlijk mee?
| | |
| --- | --- |
| Datum: | 05 december 2016 |
| Auteur: | Riepko Buikema |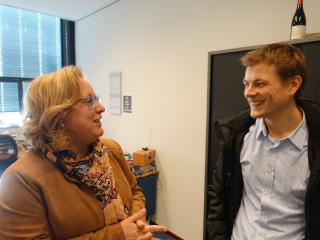 Daar is hij dan. Ben Feringa. Kleiner dan ik had verwacht, zo als hij daar staat bij de printer in de hoek van zijn secretariaat. Het zijn voorlopig de laatste minuten in de buurt van zijn vertrouwde lab. Het is de hoogste tijd om de Nobelprijs naar Groningen te halen. Op naar Stockholm, waar hem deze week een minutieus gepland programma wacht.
Nog even een kort overleg met secretaresse Tineke. "Dat interviewverzoek voor de radio, wat doen we daar mee?", vraagt Feringa. Sinds 5 oktober lijkt de hele wereld iets van hem te willen. "Dat zou je nog overleggen met jouw vrouw, maar het is in de kerstvakantie. Dan ben je vrij. Het enige juiste antwoord is: nee." Dankbaar glimlachend neemt Feringa het advies in ontvangst. "In Amsterdam zou ik na zo'n vraag een betoog krijgen van een kwartier. Hier in Groningen zegt men gewoon: nee." Dus snel naar huis nu, en dan hup richting Schiphol.
Feringa's secretaresse buigt zich ondertussen over een ander vraagstuk: de fraaie ketting die Feringa werd omgehangen door minister Bussemaker ter ere van zijn benoeming tot Commandeur in de Orde van de Nederlandse Leeuw - moet die mee naar Zweden? Is het gepast of zelfs voorgeschreven om de ketting straks te dragen tijdens de Nobel Prize Award Ceremony? Ruggespraak met De Kanselarij der Nederlandse Orden biedt uitkomst. Het resultaat ziet u op zaterdagmiddag 10 december.
Mijn collega Peter van der Sijde en mij valt de eer ten deel om vanaf woensdagavond vanuit Stockholm verslag te doen in het spoor van Feringa en zijn officiële delegatie. Ter voorbereiding keek ik onderstaande video nog eens terug. Moet u ook doen. De vreugde, trots en blijdschap van die wonderbaarlijke 5 oktober zijn ongekend mooi.
Benieuwd of dat gevoel ook in Stockholm leeft. Op naar Zweden. Op naar de Nobelprijs. Met een grote lach op ons gezicht.