Nobel-lezingen 2016: Feringa steelt de show in Stockholm
| | |
| --- | --- |
| Datum: | 08 december 2016 |
| Auteur: | Riepko Buikema |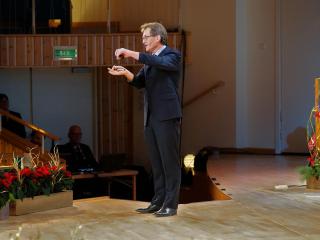 Hij vliegt als een Boeing over het podium. Demonstreert met grote armgebaren de vleugels van een vogel. Maar nog liever lijkt Ben Feringa vanochtend van het podium áf te willen springen om zijn publiek mee te nemen naar de wondere wereld van moleculaire machines. 'This is a bit of of my dream, hè,' zegt hij dan opgewonden.
Geen moment staat hij achter de katheder. Voortdurend is hij op zoek naar contact met zijn toehoorders. In zijn enthousiasme valt zelfs af en toe dat typisch Groningse 'ja' te ontwaren als hij zijn zinnen kracht bijzet.
Deze voortreffelijke onderzoeker is óók een docent in hart en nieren. Wij in Groningen wisten dat natuurlijk al, na die bevlogen voordracht in de schitterende ambiance van onze eigen Martinikerk. Maar hier in de Aula Magna van Stockholm University schrikt het publiek wakker als Feringa de arena betreedt.
Gepassioneerd vertelt hij over de toekomstige mogelijkheden van zijn wetenschappelijke werk. Dat hij droomt van lasergestuurde chemotherapie die exact en alleen zijn werk doet op de plek van tumoren.
Steeds dichter nadert Feringa de rand van het podium. Nog even en hij zit daadwerkelijk zelf in de zaal.
Wat een verschil met de voordrachten van zijn collega-laureaten. Natuurlijk, ik ben niet objectief – maar groot is het onderscheid met natuurkundige F. Duncan M. Haldane (qua uiterlijk een soort vriendelijke stripfiguurprofessor met slordige grijze Einstein-krullen in de nek), die beseft dat hij een groot deel van zijn toehoorders al bij de eerste slide is kwijtgeraakt en aan het eind van zijn betoog daarvoor zijn oprechte excuses aanbiedt.
Dan Feringa. Als een ware ambassadeur neemt hij ons mee langs Sibrandus Stratingh, Jacobus van 't Hoff en Hans Wijnberg, Hollandse windmolens en de klompen op de boerderij van zijn ouders. Hij laat zijn toehoorders vol verwondering genieten van bewegend beeld van 'sugar fueled nano-swimmers' en zijn voorspellingen over auto's met zelfherstellende lak en muren die zich kunnen aanpassen aan de sfeer van een kerst- of kinderfeestje.
Of dat ooit werkelijkheid wordt? Feringa kent het antwoord niet, maar citeert graag de Amerikaanse wetenschapper Alan Kay. The best way to predict the future, is to invent it. De jonge onderzoekers in de zaal stuurt hij naar terug naar hun labs met de boodschap: imagine the unimaginable.
De bekroning volgt wanneer de drie scheikundelaureaten Jean-Pierre Sauvage, Sir J. Fraser Stoddart en Ben Feringa zij aan zij op het podium staan. In de prachtige aula klinkt een daverende ovatie.