Strategic Partner travel grants
We have an ongoing call for applications for co-funding of short-term mobility between UG and its nine non-European Strategic Partners in Africa, Asia, Latin America and Oceania. We welcome applications throughout the year, being awarded in rounds.
Types of support
Support is available for both Staff Travel and Talent Travel , the latter specifically targeting incoming (prospective) co-supervised PhD candidates. The mobility options in the table below are available per Partner.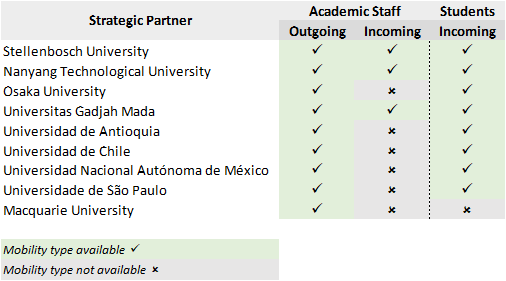 How to apply?
In all cases, the UG academic will need to apply to SPF support, by completing the relevant form accessible via the following links:
Note that this means that the UG academic also needs to apply on behalf of any incoming staff or student.
In the case of visiting staff a Work Plan will need to be completed. Students will need to draft a Work Plan and complete a Beneficiary Form. You may download the available templates here:
No template is available for the student Work Plan.
Financial
Incoming students receive EUR 1.500 to cover the cost of subsistence of a one-month research internship at Groningen. Staff receive EUR 1.500, except in the case of Osaka University and Macquarie University; the award amount for those selected is EUR 2.200 due to the higher cost of travel and/or stay.
A requirement of SPF grant award is that the UG sending or hosting faculty matches the central investment. This means that 50% of the grant amounts as listed on respective SPF Staff Travel and SPF Talent Travel (students) information pages should be covered by the Faculty. Any costs not covered by the SPF grant will need to be funded by other means, external to UG-central investments.
Application dates
Applications will be accepted on a rolling basis throughout the year, with selection and awarding of grants announced in rounds. The deadlines for each round are roughly as follows:
1 December

1 March

1 June

1 September
Availability of the grants is dependent upon funds remaining available in that budget (calendar) year. Furthermore, the ISR regional coordinator may choose to diverge from this standard practice if necessary (eg, coordinated delegation visits to a partner).
More information
Consult the relevant intranet pages or contact the ISR Regional Coordinator for more information on specific conditions.
| | |
| --- | --- |
| Last modified: | 06 October 2023 2.51 p.m. |