UNAM-UG Double Degree PhD Program
Background
In February 2017, the Rectors of Universidad Nacional Autónoma de México (UNAM) and the University of Groningen (UG) signed an agreement for postgraduate collaboration. This agreement allows for the enrollment of doctoral students in a Double Degree (DD) doctoral program in all academic fields covered by both institutions.
The Double Degree program implies that students, who successfully complete their DD project and defend their thesis in accordance with the PhD Regulations at UNAM and UG, receive a PhD degree from both institutions. A qualified and registered tutor affiliated to UNAM and one UG supervisor share the responsibility for the DD student's supervision. DD PhD projects generally take 48 months, during which period the student performs their research at both UNAM and UG. The period spent at either institution is set at approximately 24 months, but there is room for flexibility depending on the focus and demands of the PhD project and the regulations of both institutions. In general, the first year of PhD studies takes place at UNAM.

Strategy
UG considers the Double Degree Program as one of the most important elements of cooperation with UNAM. Optimizing its implementation and development, together with UNAM authorities, is an explicit and key priority within the UG Strategic Partner Framework 2021-2023.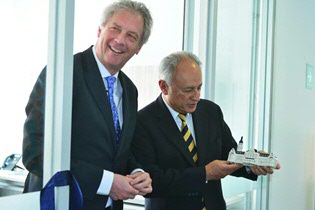 The UG Representation at UNAM
UG opened the doors of its first international representation ("the Representation") at an academic partner institution at UNAM, in March 2019. The Representation provides support for the successful implementation of the Sandwich PhD program on behalf of both institutions.
Sandwich PhD
Double Degree PhD programs may sometimes also be referred to as "Sandwich PhD" projects, although each institution generally applies its own definitions. At UG, all PhD trajectories implemented together with an international Partner & supervisor are Sandwich PhD projects. In that sense, "Sandwich PhD" is an umbrella term that by itself does not say anything about which institution(s) ultimately award(s) the PhD degree.
This is important because, in addition to the DD program, UG may occasionally accept students who are co-supervised by UNAM and who carry out part of their research at UNAM, but who are not enrolled in a doctoral program at UNAM. This may for example be the case with medical graduates who, due to local legislation, cannot enroll in a matching program at UNAM. Both the single UG degree option as well as the Double Degree, in accordance with UG definitions, pertain to the broader category of "Sandwich PhD" structures.
Note that opportunities for each potential trajectory depend on multiple factors, and that this requires a case-by-case review. In case of questions, contact the UG Representation at UNAM.
Requirements for admission
All interested candidates are obliged to contact the Representation (contact information below) during the earliest possible stage of the application (preparation) process. Candidates are responsible to inform themselves about general and specific procedures for application and enrollment, and ensure that they meet the conditions to proceed with their application. The Representation provides invaluable information to candidates in this process.
In addition, the following general rules for admission apply:
As an applicant to the Sandwich PhD program, you have located academics at both institutions who agree to be your PhD supervisors. In general, this implies in any case a review of your academic background and an (online) interview. It is important that both the supervisor at UG and the tutor at UNAM have an agreement and have consulted with each other. If necessary, the Representation can assist with the identification of a co-supervisor/tutor at the other institution.
At UG, the Admissions Board of the Graduate School (GS) of the Faculty to which the student's supervisor pertains is responsible for admitting students to the UG PhD degree program. In all cases, the responsible GS evaluates the academic and financial feasibility of proposals. Be aware that support, evaluation and award policies may differ across GS.
At UNAM, the supervisor and the Academic Committee of the relevant postgraduate program decide on acceptance/admission.
Submitting an application under no circumstances implies admission. Interested students in all cases contact the UG Representation at UNAM.
Deadlines
Students who would like to be considered for admission to the DD program (and, generally, the Sandwich PhD program) can apply throughout the year, in accordance with the procedure as outlined under the below header "How to apply?". No generic deadlines apply, but students should thoroughly inform themselves and ensure to meet any specific deadlines as they may have been set by the relevant authorities for admission at both universities. Moreover, prospective applicants should consider that the entire process, from the development of a co-supervised project to the actual acceptance in the DD program and the start of your international mobility, is very lengthy.
When to start?
Acceptance to the DD (Sandwich) PhD program may take more than a year, as the indicative timetable aims to demonstrate:
| Action | Duration | Remark |
| --- | --- | --- |
| Locating a supervisor & supervisor preliminary acceptance | 3 months | |
| Compiling your application package with supervisors | 3 months | Supervisors need to be involved and agree; at least one joint video call |
| Evaluation after submission | 2 months | Depends on procedures at individual UG Graduate Schools and UNAM programs |
| Earliest possible start of implementation mobility period at the Partner | 4-6 months | Earliest possible start date: 4-6 months after acceptance |
| All combined | 12-15 months | |
(no rights can be derived from this table)
In addition to the practical implications of this, it is important that candidates and their UNAM-UG supervisory team are aware that they together are responsible for the quality of the joint research project. This requires that they take into account the integration and complementarity of the alternating research periods at both institutions. Award criteria include the quality and feasibility of the project, which generally means that, the sooner the entire supervisory team is involved in project development, the better.
I am an undergraduate or master student
In accordance with the above, we would like to specifically also call on prospective PhD students (e.g. undergraduate or master student/recent graduate) who are not yet enrolled in any PhD program at either UNAM or UG, to consider the DD program.
The Representation supports (short) research internships for prospective DD PhD students that allow candidates to become acquainted with the research (and social) environment at the other institution and work on a fully integrated PhD proposal. Contact the Representation for more information on opportunities, including possible scholarships.
How to apply?
In case you are a student already enrolled in a PhD program at UNAM or UG, consult this document for information on how to proceed
In case you are a prospective Sandwich PhD student who is not enrolled/will not enroll in any UNAM PhD program, contact the Representation. In case of eligibility, you should compile your application package as instructed below.
Sandwich PhD: Application Package
The Sandwich PhD application needs to be submitted by the (prospective) PhD candidate to the UG Representation at UNAM. It consists of the following documentation:
Sandwich PhD application form (click here for template)
Research Proposal (click here for template)
Support letter by the Partner and UG main supervisors (click here for template)
Financial Statement by candidate (click here for template)
CV candidate
Proof of English proficiency (if applicable - exemptions possible)
Copy of diploma (highest degree)
The research proposal form should be completed by you as a candidate, in agreement with your supervisors.
Rules & Regulations
UG and UNAM are working continuously to improve the quality of their joint programs. We have learned by experience that it is important to clarify some of the specific rules and regulations of the Double Degree program. These include:
Responsibilities of joint supervision
Integration of (formal) progress evaluations and graduation requirements
Duty to report relevant issues to the authorities of both universities.
Pending the publication of this document, contact the Representation for more information.
Contact
The UG Representative Office at UNAM
Mr Luis Andrés González Gutiérrez, l.a.gonzalez.gutierrez rug.nl
| | |
| --- | --- |
| Last modified: | 26 March 2021 5.13 p.m. |