Breaking ground Confucius Institute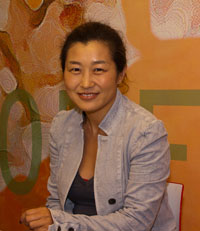 An inspiring work environment and good access to broad facilities are essential conditions for work and study. In order to achieve this, the University of Groningen is continually breaking ground: building and redesigning university locations and creating new facilities for its students and staff. In this issue:
Groningen Confucius Institute
This summer, Groningen Confucius Institute opened its office doors at Oude Boteringestraat 42, a prime city location. The building has been completely refurbished, now boasting a high-tech conference room, ready for use.
Co-operation
In setting up the Institute, which is one of 350 similar institutes worldwide, the University of Groningen partnered with Hanze University of Applied Sciences Groningen and the City of Groningen. 'The University already had strong ties with China through its double degree programmes with Chinese partner universities. Hanze University of Applied Sciences Groningen and the City of Groningen were also linked with China, the latter having partner cities there,' says Xuefei Knoester-Cao, director of Groningen Confucius Institute. Xuefei, also working as an International Relations Officer at the University, has been involved with the Institute from the very beginning. Her knowledge, experience and strong connections with China proved to be of great value.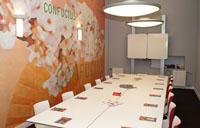 Strengthening mutual bonds
'Our objective is to strengthen the mutual bonds between China and the Netherlands. In order to achieve this goal, we offer courses on Chinese language and culture and we organize cultural activities. With our new teaching method, learning Chinese seems easy. In a short period of time students learn 500 characters, which already enables them to read a Chinese newspaper,' says Xuefei. The teachers are mostly native speakers, educated in China at Hanban, the teaching institute behind Groningen Confucius Institute. And not only are the courses taught in their own conference room, the Institute brings the Chinese language courses to classrooms at school as well.
Businesses, also an important target group, are offered business courses and business consultancy services. 'We provide assistance to Dutch businessmen seeking to set up a business in China, by introducing them to the Chinese market. And vice versa; in the near future we will be welcoming a Chinese businessman in an industry potentially interesting to Western Europe.'
Open to suggestions
The Groningen Confucius Institute is still in its infancy. 'Currently, we are mainly focusing on setting up our courses and building a network of contacts, but I am always open to suggestions, so please do not hesitate to contact me,' says Xuefei, adding with a smile, 'provided they are China-related, of course!'
I don't suppose Confucius could have ever imagined gaining a foothold in Groningen!
[Confucius (551-479 BC) was a Chinese philosopher, whose ideas had a great influence on Chinese society.]
| | |
| --- | --- |
| Last modified: | 19 March 2020 11.20 a.m. |