Sustainability in a schizophrenic market
Is there room for idealism in the hyper-commercial world of listed companies? Journalist Jeroen Smit wrote Het grote gevecht, a book about Paul Polman's efforts to turn the multinational Unilever (responsible for brands such as Dove, Knorr and Calvé) into a company that takes responsibility for its impact on people and the environment.
The logic of the market is unyielding. This came to the surface once again in early 2017, when the American food concern Kraft Heinz made a hostile takeover bid of 143 billion dollars for the Dutch-British multinational Unilever. The move aroused the curiosity of journalist Jeroen Smit.
For years, Smit had been fascinated by Paul Polman, CEO of Unilever since 2009. To his mind, Polman was a pioneer. Perhaps even a brave man. Immediately after his appointment as CEO, the Dutchman announced that he'd had enough of short-term thinking. Unilever would stop presenting quarterly results. The horizon was being pushed back by ten years: by this time, the company should not only have doubled its profits, but it must also have halved its environmental impact. In a totally unorthodox move, Polman joined forces with Greenpeace and Oxfam/Novib, NGOs that are usually a thorn in the side of large-scale industry. Companies aren't just here to make money, he said, but also for the greater good.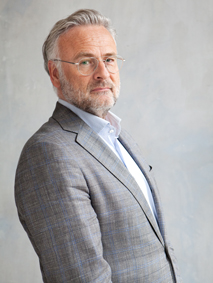 While researching his book Het grote gevecht, which recounts Paul Polman's efforts to turn Unilever into an ecologically sustainable company, Jeroen Smit spent two years interviewing 166 people from inside and outside the multinational. Big business and the financial markets are ruled by short-term interests. How much leeway does this world have for idealism, concern about our planet and the fight against climate change?
These questions became even more pressing when Kraft Heinz made its takeover bid. It was clear that the company was not interested in Polman's sustainable idealism. If the takeover were to succeed, Polman could wave goodbye to his long-term vision. 'In my book,' explains Jeroen Smit, 'I reconstruct how if Kraft Heinz had approached the Dutch pension funds at that moment, they would probably have sold their shares in Unilever to the company. Although they are enthusiastic about Unilever's sustainable strategy, if a party comes along that will undermine that strategy but will pay 30% more than the face value per share, they won't hesitate to sell. The pension funds' argument would be that it is their social responsibility to look after people's pensions.'
It is normal for CEOs to have split personalities, explains Smit. Take Tim Cook, the big boss at Apple. 'Tim Cook was recently in Ireland. Apple sends a lot of money through Ireland to keep the company's tax bill to a minimum. The European Commission kicked up a huge fuss and imposed an additional tax assessment and a fine of € 14.3 billion. But when he was in Ireland, Tim Cook said: We desperately need a fair tax system. Just imagine: the boss of Apple, who wants to pay as little in taxes as he can, saying that we desperately need a fair tax system. He separates his personal opinions from his actions as a CEO. Someone like Polman, on the other hand, tries to integrate these two perspectives. He thinks that you should be part of the solution rather than part of the problem. If you like, he's saying: what you should do, Tim Cook, is sit down with your colleagues at Amazon and Google and explain to them that you all need to start paying more taxes. You need to organize a flywheel. It's all very well expecting the government to do it, but which government is going to construct a fair tax system for the entire world?'
Smit has more examples that illustrate the schizophrenia of the market: 'The major American bank J.P. Morgan published a report stating: if we do not impose a global CO2 tax, we are heading for a climate catastrophe. The document was written in one particular department of the bank. Meanwhile, another part of J.P. Morgan continued to invest in coal and fossil materials. The reason is simple: if you don't, your portfolio will be sub-optimum and you won't make sound profits. Just like Tim Cook, there is an awareness but the market is demanding something else. It is because of this market system that we are currently on course for a three or four-degree rise in global warming. According to the United Nations, this will drive half a billion refugees in our direction. A lot of people respond with: We'll cross that bridge when we come to it. In my book, I recount an anecdote relating to the North Sea floods in 1953. There had been warnings about the sorry state of the dykes for many years beforehand, but the government had been worried about the cost of repairs. After the North Sea floods, the government invested billions in the Delta Works. So: Dutch engineers pray to God for their daily bread and the occasional flood. In other words: it seems as if people need a crisis before they act. Polman reacts furiously if he hears this. Unbelievable, he says. We can already calculate the cost of the catastrophe that is heading our way. If we act now, the costs will be considerably lower than when the problem actually arises.'
Big business is teeming with statisticians, claims Jeroen Smit. One solution for the lack of idealism could be integrated reporting. This means that accountancy firms such as PriceWaterhouseCoopers or KPMG would calculate the environmental damage that a company is causing for its reports, to give an impression of the real costs. 'Polman has some great one-liners', says Smit. 'For example, he says: "As long as we keep assigning a concrete value to dead trees but not to living trees, the world is heading for destruction." A dead tree is wood, wood is fuel, fuel has a value. A living tree only becomes valuable when you cut it down. But if you say: that living tree absorbs CO2 and so it is worth such and such, you would need a good reason for cutting it down.'
But there is another big problem: the accountancy firms are paid by the multinationals. New accountancy regulations require new legislation. In the eyes of the accountants, politicians should make the first move.
Jeroen Smit wrote his book with a sense of urgency. Things in the world need to change, he claims. He hopes that, among other things, the increasing number of women working in big business will make a difference. Under Polman's leadership, there has been a substantial rise in the number of female executive managers at Unilever. They counterbalance the under-empathic, over-rationalized male culture that has dominated the higher echelons of many companies in the past decades. For the same reason, Smit is enthusiastic about Christine Lagarde, the new President of the European Central Bank, and Ursula von der Leyen, the new President of the European Commission. 'In recent months, both of these women have repeatedly stressed that sustainability and climate will be their priorities.'
Smit also fantasizes about using the United Nations Sustainable Development Goals in education. Fontys University of Applied Sciences has already started. 'These are goals that everyone agrees with: banishing poverty, good healthcare, good education, equal treatment of men and women, sustainable energy', says Smit. 'I would advocate challenging students to answer the question: why do I want to be an economist? Why do I want to be a lawyer? Why do I want to be a business administrator? Let them ask themselves: which problem do I want to solve? If you do this, you won't just be an economist; you'll be an economist with a vocation.'
Biography
After leaving high school, Jeroen Smit (1963) could not decide what he wanted to do next. He considered sports college and drama school, and even thought about going abroad. But affairs of the heart brought him to Groningen, where he decided to take a degree in Business Administration. After graduating, he found a job in consultancy. Despite the generous salary and company car, he didn't feel at home in this world. Newspaper journalism suited him better. He started at Het Financieele Dagblad, became chief economist at the AD and then editor-in-chief of FEM/De Week magazine. He later gained renown for his books Het drama Ahold (2004) and De Prooi (2008), and for presenting the television programmes NOVA and Buitenhof. Alongside these jobs, he also held a post as a Professor of Journalism at the University of Groningen from 2011 until 2015. He stepped down to return to writing.
Text: Jurgen Tiekstra
| | |
| --- | --- |
| Last modified: | 03 April 2020 1.23 p.m. |