Roll up your sleeves for the alma mater
He arrived at the University of Groningen as a medical student and left fifty years later as the President of the Board. Serving the alma mater had never been Sibrand Poppema's childhood dream, but when he saw that things needed to change, he rolled up his sleeves and got on with it. A farewell interview.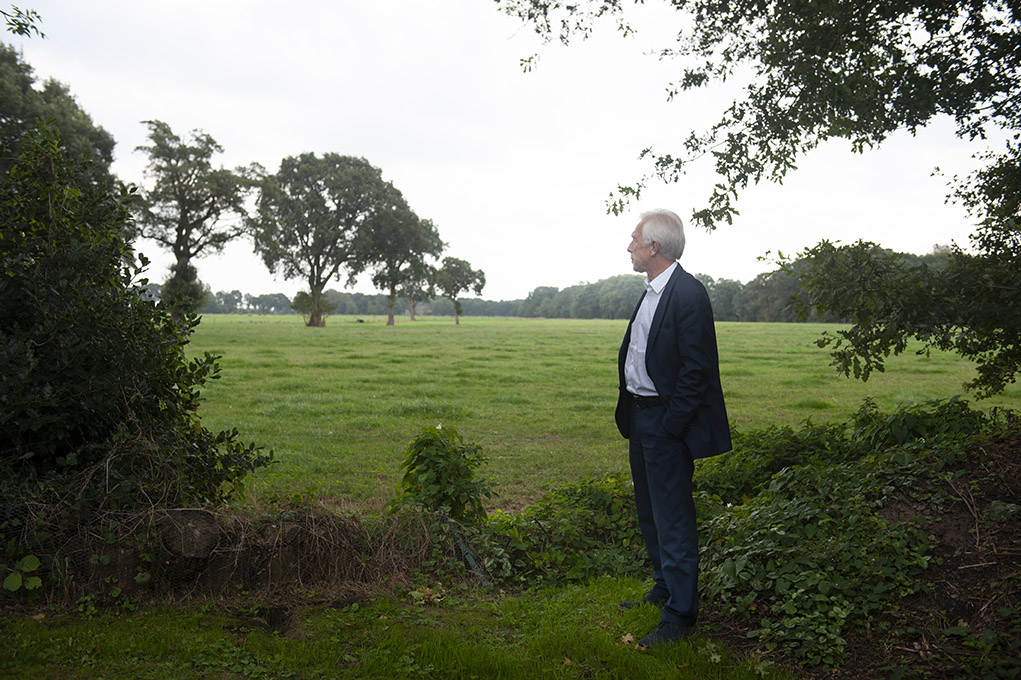 If it's raining he goes by car, but if at all possible, Sibrand Poppema goes to Groningen by bike. He bikes fast, usually at about 25 kilometres per hour. No pedal power assistance; electric bikes are for old people. Sibrand is 69, a prime example of one of the UG's main focus areas: healthy ageing. As a child, things were very different. Sibrand was a sickly child. Looking back, he sees this as a blessing in disguise. He spent his days at home reading.
Throughout our meeting on a September evening in his smallholding in Bunne, Drenthe, Sibrand Poppema talked about his work in the present tense. These were his last weeks as the President of the Board of the University of Groningen. By the time this edition of Broerstraat 5 is published, he will have left and may even be on his way to Canada. The surprising news was announced on the previous day. Poppema has applied for a job as president of a Canadian university. He doesn't want to say which one. Five universities are currently looking for a new president. He has progressed from the long list onto the short list. Poppema already has Canadian citizenship from an earlier stint living in Canada. At the time, he needed it to acquire funding but it has now become an advantage in the application process. The chances of the Dutch senior being appointed are slim, of course.
When Poppema left for Canada in 1987 with his wife and children, all thoughts of Groningen gradually faded from his mind. He had been appointed as professor of pathology in the Faculty of Medicine at the UG two years earlier, and had landed a job as head of department at the University of Alberta. The Poppemas emigrated and Sibrand thought he had left Europe for good. Eight years later, his mother-in-law became ill and they decided to return. Switzerland was close enough - just an hour's flight from his wife's mother. But on hearing about Poppema's plan to move to Switzerland, top brass from the UG wrote to him asking why he hadn't considered Groningen. He promptly found himself with two job offers. I'll take the first one that lands on the doormat, thought Poppema. And that was Groningen, where he returned as head of the pathology department, became Dean of the Faculty of Medicine, and was finally appointed as the boss of the entire University nine years later.
Sibrand Poppema has a reputation for wanting to win. This doesn't always make you popular, he admits. He recently read in an American education journal that if you want to make friends as a high-flying manager, you should get a dog. The laughter lines seem to indicate that Poppema hasn't been too badly affected by any hostility he encountered along the way. Having said this, being forced to cancel plans for a branch of the UG in the Chinese city of Yantai has left its mark. Sibrand would prefer to skip the subject this evening, referring to the fact that the University Council put an end to his dream last January as a mistake and a missed opportunity.
When asked about his greatest success as President of the Board of the University, he doesn't need to think twice. Increasing the pass rate. These days, seventy-five percent of students have a Bachelor's degree after four years. When he started in 2008, this figure was under fifty percent, with twenty percent dropping out during the first year. Under Poppema's leadership, contact hours were increased and infamous obstacles removed. He also made it his personal mission to introduce binding study advice stating that students must obtain 45 of the 60 ECTS credits in the first year, a measure that has now been introduced throughout the University.
Students are more satisfied with the UG now than they were a few years ago. But Groningen is not immune to complaints about a heavy student workload. Last year, the National Student Union (Landelijke Studenten Vakbond) claimed that three-quarters of all students are emotionally exhausted. No wonder, says Poppema, if you want to join in with everything and spend the rest of your time on social media. Make choices, switch off your phone every now and then; that would help. He doesn't participate in Facebook or Twitter, but he does have an Instagram account. He uses it to share photos of his grandchildren, the garden, the hens and notable UG moments.
During his time as President, the UG secured a place in the top 100 of the prestigious Shanghai rankings. Groningen entered the table in 2013 at number 92 and is currently in 66th position. When offered the job of Dean of the Faculty of Medicine in 1999, Poppema launched a personal campaign to improve academic quality. He was just fifty, didn't want to say no, but the job offer came too soon for him. There was still a lot he wanted to achieve as a researcher. But after finding a report in a drawer stating that research in the Faculty of Medicine in Groningen was the poorest in the Netherlands, he decided to roll up his sleeves and do something about it. Dean Poppema brought top-class researchers to Groningen to set the right example. Among them was Cisca Wijmenga, a leading professor of genetics. Sibrand was also one of the instigators of the tenure track, the tough route that leads to professorship. It is hated by many for its exorbitant conditions and heavy pressure to publish. But Poppema can only sing its praises. Whereas in the past, candidates who knew how to ingratiate themselves were promoted, nowadays there are equal opportunities for all. If you choose this route, you know what you are letting yourself in for. If it doesn't work out, you have to stop. No mercy.
He's not afraid to say that he used to be a top-class researcher in the field of leukaemia and lymphomas himself. He even had a tumour named after him. Okay, only in France and Wallonia, but all the same... He thought someone was having a joke when he saw the term lymphome Poppema at a French conference, but it was serious and is still used in books as a synonym for the official term nodular lymphocyte predominant Hodgkin lymphoma.Just for the record, a Poppema is the least aggressive type of all malignant lymph node tumours.
For many years, he combined his managerial duties with research, spending every Friday in the lab. He supervised PhD students and his last publication dates from 2013. He recalls it precisely. Two years previously, he went cold turkey on medical science. Koos Duppen, fellow-member of the UG Board, became ill and died. Sibrand Poppema took over Duppen's portfolio alongside his own, but soon realized that although you can do two things at the same time, three is simply too much. He had certain regrets about this, particularly on his formal retirement. There was no way back to his work as a researcher. Seven years was too long to consider starting again.
It was too late. There's a noise at the door. Two dogs storm into the room, followed by Joke, Mrs Poppema for almost fifty years. She has finished work for today. Joke owns the De Zeven Ossen restaurant in Eext. People have been asking her about going to Canada all day. If it comes to it, they will go together, just the two of them. And if not, Joke has another idea. She's always dreamed of travelling from Vancouver to Mexico. On a trike. With Sibrand on the back.
Sibrand Poppema:
Born in Emmen on 24 July 1949

1

968: secondary school diploma from Ubbo Emmius Lyceum Stadskanaal

1968-1974: Studied Medicine at the UG

1979: PhD on Hodgkin's disease at the UG

1985: Professor of Pathology at the UG

1999-2008: Dean of the Faculty of Medicine at the UG

2008: President of the Board of the University of Groningen

Personal life: married, two sons, one daughter, six grandchildren
Text: Ellis Ellenbroek
Photo: Reyer Boxem
| | |
| --- | --- |
| Last modified: | 19 March 2020 10.27 a.m. |