Luuk van Middelaar, Alumnus of the Year 2015, talking about the power and impotence of the EU.
'The EU is political to the core'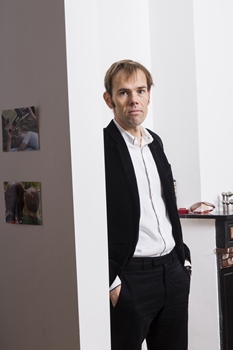 'He's the best student I've ever had', said Frank Ankersmit after Luuk van Middelaar completed his degrees in History and Philosophy in 1999 with straight tens. Since then, the Alumnus of the Year 2015 has spent his time switching between academia and the world of politics with considerable allure. Speaking as a dedicated European, he thinks that 'we are gradually starting to realize that our civilization is under serious threat.'
Luuk van Middelaar undoes his tie and slips it into his jacket pocket. He has just given a talk on populism in Europe at a conference full of Euro MPs, civil servants and European experts. It was held in a redeveloped industrial building in what used to be a shabby district on the southern outskirts of Brussels. Pushing his bike, complete with child seat, Van Middelaar climbs the steep Avenue du Roi that leads to a much smarter part of Brussels. He orders a drink in the Bar du Matin, explaining that he is just five minutes from home. He has lived in Brussels for years. In 2002 and 2003, he worked for Frits Bolkestein, who was at that time a European Commissioner. From 2010 until 2014, he wrote speeches for Herman Van Rompuy, the first President of the European Council of heads of state or government. Not long ago he returned to Groningen, where he studied philosophy and history in the 1990s, and went for a run in the Noorderplantsoen public park. His publisher, who he met during his time at university, is based in Groningen. Van Middelaar spent a few weeks in the city working on his third book, which is due to be published in the autumn. The book claims that the European Union is actually a much more political project than widely assumed.
Tough job
Van Middelaar left the European political stage in early 2015. He could have stayed on when Donald Tusk took over from Van Rompuy as President, but he craved the freedom to speak his mind. His appointments as a professor in both Louvain-la-Neuve and Leiden have given him exactly this. Furthermore, speechwriter was a tough job, he continues with a grin. 'You try writing a speech for Van Rompuy to give at a conference in Portugal, when the country is in a crisis. You need a good grasp of the situation in Portugal, and must understand their attitude to Europe. You have to say something about the present state of affairs, about the refugee crisis, for example. You have to know that the Portuguese media is focusing on a minor conflict between Portugal's prime minister and the leader of the opposition. At the same time, a representative of Reuters international news agency is in the room, trying to find differences between what Van Rompuy says about the banking union and what Borosso or Merkel say. So you have to check everything with your colleagues from the staff department who understand the ins and outs of the euro. And there might be problems with Russia, so you have to talk to diplomats too. The corridors of power are rife with battles and confrontations, simply to make sure that the speech I am writing is punchy, accurate and refined, and doesn't degenerate into a piece of meaningless, politically correct prose. It's quite a task.' Van Middelaar can now speak his mind. He can make his views known on topics such as the current unrest in the EU due to the economic problems in Greece, the refugee crisis, the referendum in June in the United Kingdom about leaving the EU, and the association agreement with Ukraine.
Depoliticization
In the midst of all this unrest, he thinks it would be good if European politicians could categorically admit that the EU is political to the core. This is not as obvious as it sounds, he says. 'After the Second World War, the EU was meant to be a completely new concept, a break with the diplomacy of the previous centuries. So the diplomatic negotiations at peace conferences made way for an attempt to calm the political passions that had torn the continent apart, by burying them under a smokescreen of justice and economics', says Van Middelaar. 'The Brussels system has a strong inclination towards what I call depoliticization. This is an enormous strength; politics since the war has encouraged polarity. But is also a weakness. By avoiding all debate and discussion, you cultivate a technocracy, and all political decisions are transformed into solutions to problems. This is how technocracy works: by pretending that politics is a technique.' According to Van Middelaar, this is how politicians managed to sell the idea of the euro as a practical result; it would allow us to withdraw money abroad cheaply. But the underlying political reason was the unification of Germany. France was prepared to say 'yes' in exchange for Germany surrendering the D-Mark, and hoped that the establishment of the European Central Bank would halt German domination of the European economy.
Inspiring picture
For a similar reason, long after 2012, the EU did everything it could to keep Greece in the euro zone despite the fact that it was no longer of any economic interest to the rest of Europe. The undisclosed political reason was that people feared unrest in the Balkans, instability in Greece and Russian influence on Greek politics. Take, for example, the sanctions that the EU placed on Russia after it annexed Crimea. Every member state had the right of veto to block the sanctions. If Greece had relied on Russia for help, it might have resulted in a Greek veto. The association agreement with Ukraine has also been dealt with technocratically, using economic arguments, explains Van Middelaar. 'It's all a bit too easy, isn't it?', he says. 'This agreement isn't just because we want to export more tulip bulbs to Kiev. At least, that's not the decisive reason. We offered this agreement in 2009 to give the Ukrainians a chance to develop into a member of the European family. This is in their interests and something they want too. We affirmed the agreement in 2014, at a particularly dramatic moment when hundreds of anti-government protesters had just been massacred on Maidan Nezalezhnosti and the Russians had invaded Crimea.' 'These more geopolitical arguments do not require economic-technical debate, but the type of political discourse that is rarely heard in Europe. This simply isn't the EU's niche.' But this political niche may well provide European politicians with the panache they need to paint a more inspiring picture for the citizens of the 28 member states who are becoming increasingly sceptical about European issues and Europe as a whole. 'It is ultimately a political picture. A picture of a rapidly changing world, in which we must function as Europeans, despite our intrinsic differences. A Frenchman will never be a German, and vice versa.
European civilization
But we do have something in common: beliefs about what it is to be a human being, about living as a society. We share common underlying values that make us different from Americans, and even more different from Chinese, Indians or Arabs. European civilization is the word that best describes it. If we want to retain this European civilization, a product of the last 2.5 millennia, we have to accept that it is time to stand up and act. The rest of the world has moved on. The Chinese and the Africans look at us and think: Boy, you don't know how lucky you are. You live on a wealthy continent, but don't even take care of your own security, for example. Our civilization is under pressure from economic and political change throughout the world. The process of realization is painfully slow. We don't need to form a European super state tomorrow, but we must be fully aware of the need to work and act together. The motto should be: join forces. With regard to the refugee crisis, for example, every member state should do what it is good at and what it believes in, rather than having one method pushed down its throat such as the enforced distribution of 160,000 refugees. This just caused frayed tempers all round. Instead, we should give the politics of difference a chance. I believe it will work. There's nothing wrong with a bit of confusion. Or improvisation. After all, the world is a confusing place.'
University press release about awarding Luuk van Middelaar Alumnus of the Year 2015
Luuk van Middelaar
Van Middelaar (1973) was a brilliant student of History and Philosophy at the University of Groningen. He won the Prix de Paris for his final year thesis entitled Politicide, which was published as a book in 1999. In 2002, he became a member of European Commissioner Frits Bolkestein's staff, before working as assistant to Jozias van Aartsen, VVD party chairman in the Dutch House of Representatives. In 2009, the Historische Uitgeverij published his much-acclaimed PhD thesis De Passage naar Europe (the English translation of which, The passage to Europe, was published in 2013) , which opened the door for him to write speeches for Herman Van Rompuy, the first President of the European Council. Van Middelaar is currently Professor of European Values in Louvain-la-Neuve and Professor of Foundations and Practice of the European Union at Leiden University. He is also a columnist for the NRC Handelsblad newspaper and currently working on a third book.
Text: Jurgen Tiekstra
Source: Broerstraat 5, the alumni magazine of the University of Groningen
| | |
| --- | --- |
| Last modified: | 19 March 2020 10.15 a.m. |