Yvonne Gerritsen-Schutte: 'There's a lot you can do wrong in Japan'
She loves cooking and became quite accomplished in the Italian cuisine in Rome. But Japanese cooking is a different kettle of fish altogether for Yvonne Gerritsen-Schutte (43), who has been living in Tokyo with her family for the last two years. 'I can follow a recipe, but if it doesn´t taste right, I don't know where to start. A drop more soy sauce, a bit of sake, mirin or dashi?' This illustrates her point: of all the countries Yvonne has lived in, Japan is the most 'different'.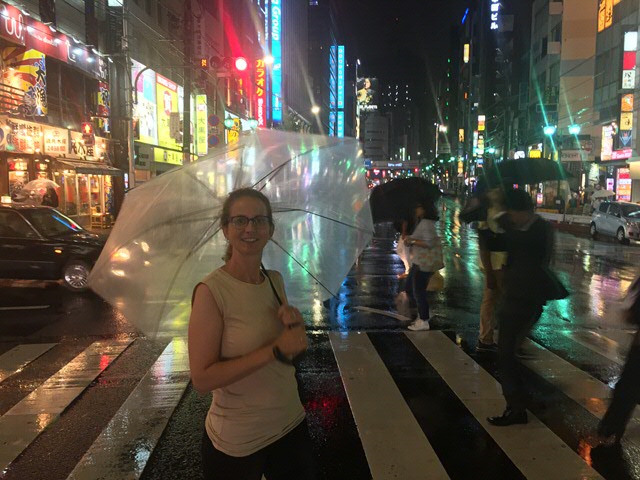 She graduated in Chemical Engineering at the University of Groningen in 1997. Since 2000, she and her husband Marc (44) have moved from country to country. Marc, himself a History alumnus from the University of Groningen, works for the Ministry of Foreign Affairs. After Jerusalem came Rome, and then Tokyo, interspersed with periods in the Netherlands, where their children Lieke (12), Freek (10) and Lara (8) were born.
The collective attitude of the Japanese is what Yvonne notices most. 'They always take other people into account.' A Japanese person would never drop litter in the street or eat in public, and you can hear a pin drop on the metro.'
In a country with a rapidly ageing population, Yvonne has nothing but admiration for the vitality of older people in Japan. You rarely see people shopping with walking frames or mobility scooters, and most of them are still able to sweep their doorsteps.
But the University of Groningen alumna is glad she isn't Japanese. 'They often look tired. Work is their main priority and pressure from society means that they have a very poor work-life balance.'
'There's a lot you can do wrong in Japan. It's sometimes frustrating and sometimes hilarious.' The Gerritsens learn by trial and error. Take the slippers in hotels where you aren't allowed to wear your shoes inside. 'There are traditional tatami mats in the rooms, which you may not walk on in your slippers. But you do have to wear them to go to the WC and in the corridors, but not actually in the toilets. They have special slippers there, which you must remember to turn round when you take them off, so that the next person can slip into them easily.'
The whole family is learning Japanese. But it's still like 'living in a bubble', says Yvonne. An apartment in a neighbourhood with western-oriented, practical support from the embassy. And the children, who will soon be climbing Mount Fuji with mummy and daddy, attend an American school.
In the Netherlands, Yvonne worked for Akzo Nobel. These days, she helps young people to write business plans. She also teaches English to Japanese children and keeps a blog of her time in the Far East for the magazine Linda. She only has one more year in Japan. Their next destination is still uncertain, as is Yvonne's own future. Despite her chemistry degree, she doesn't think she would easily find a job in her original field. 'I'm not sure that a major multinational would want to employ me anymore. But I have vast experience and I'm sure I'll be able to make myself useful somewhere.'
Text: Ellis Ellenbroek
Source: Broerstraat 5, the alumni magazine of the University of Groningen
| | |
| --- | --- |
| Last modified: | 19 March 2020 10.13 a.m. |