Summer 2015
Worldwide Newsletter University of Groningen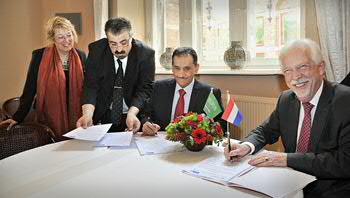 King Saud University signs an agreement of collaboration with the University of Groningen
In May, a high profiled delegation from the King Saud University (Saudi Arabia) came to the Netherlands to visit the University of Groningen.
The King Saud University (KSU) is one of the leading universities in the Gulf region that has chosen the Netherlands as a new focus country.
Read more about the agreement of collaboration.
International students satisfied with University of Groningen
International students are satisfied with the University of Groningen according to the latest International Student Barometer, a worldwide survey of satisfaction among international students. 87 percent of the respondents would recommend the University of Groningen to friends in their home countries.
Read more about the outcomes of the survey.
University of Groningen and Energy Academy Europe to head educational project in Mozambique
A consortium headed by the University of Groningen and the Energy Academy Europe (EAE) will spend the next four years working on a project in Mozambique to reinforce the knowledge infrastructure in the area of energy. They will set up programmes at Mozambican knowledge institutes and train Mozambican staff. Read more about the project.
Research and Education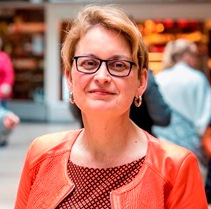 Spinoza Prize winner: 'Research on gluten intolerance is a matter of patience'
Cisca Wijmenga, Professor of Human Genetics the University of Groningen's Faculty of Medicine and the University Medical Center Groningen, is one of the winners of the Spinoza Prize 2015. The Spinoza Prize is a personal award for top researchers with an international reputation. The winners each receive €2.5 million to spend on research of their own choice for five years.
Wijmenga received the top Dutch research award mainly for her work on unravelling the genetic background to gluten intolerance (coeliac disease).
Read more about Cisca Wijmenga and her research.
Seven Vidi grants for top researchers from the University of Groningen and UMCG
The Netherlands Organisation for Scientific Research (NWO) has awarded Vidi grants to seven researchers from the University of Groningen and the University Medical Center Groningen. The grants, which are worth a maximum of € 800,000 enable researchers to develop their own research lines and set up their own research teams.
Read more about the researchers.
New research institute GELIFES focuses on adaptive capacity of living systems
In April, the new research institute GELIFES started. The Groningen Institute for Evolutionary Life Sciences is a new centre that merges the ecological, evolutionary and neurosciences research groups of the Faculty of Mathematics and Natural Sciences. They will join together to study the interaction between evolutionary adaptation and changes during the development or ageing of organisms, and the impact this has on nature, food production and health.
Read more about the institute.
EU grant worth 3.8 million Euro for research into how the brain adapts to visual and brain disorders
The research project 'NextGenVis' has been awarded a grant worth € 3.8 million by the European Union. Brain researchers working on this project are trying to find out whether and how the visual cortex adapts and responds to certain visual and brain disorders. Frans Cornelissen and Barbara Nordhjem, brain researchers from the UMCG, are heading this international project, which involves researchers from 15 institutes from six different countries.
Read more about this research project.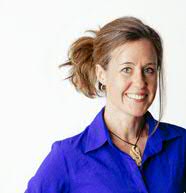 The other side of Islam: Rosalind Franklin Fellow and specialist in early Islam Clare Wilde wants to place faith in its historical context.
Clare Wilde joined the Faculty of Theology and Religious Studies in February as a specialist in early Islam in the group 'Judaism, Christianity and Islam in their formative phase'. In her research she focuses on the reception history of the Qur'an in Islamic and Christian traditions.
If you really want to understand Islam, you need to read the Qur'an as people read it in the seventh century, rather than just seeing it through contemporary Western eyes, says the brand-new Rosalind Franklin Fellow. Read more about Clare Wilde.
Important archive find by Prof. Sebastian Sobecki published in 'The Guardian'
The UK's second-biggest newspaper 'The Guardian' has published an article on an important archive find of Professor Sebastian Sobecki. Sobecki has found a letter written in 1431 for the son of Margery Kempe, the first English autobiographer. His discovery may shed fresh light on the medieval mystic's remarkable account of her visions and pilgrimages 600 years ago. Read more about the archive.
Romana Shirhagl: Nano Spies in cancer cells
Romana Schirhagl received her PhD in Chemistry in 2009 from Vienna University at the age of 24 as one of the youngest candidates ever. She has been awarded numerous different national and international prizes. In February 2014, she started working at Groningen University and is since then leading the Bio imaging and Bioanalysis group. Romana Schirhagl and her research group try to fight cancer in a special way: they use nano diamonds inside cancer cells to unravel all the secrets of the cell. You can help her research. Find out how!
Alumni
The RUG is traveling and would like to meet you in your country!
Berlin: alumni lecture and dinner - 20 October 2015
Singapore: alumni lecture and reception - 5 November 2015
Zurich: alumni lecture and reception - 16 December 2015
We regularly organize alumni events in regions where we have international alumni chapters .
Are you residing in one of these regions and are you not receiving our invitations?
Please email: internationalalumni rug.nl
Newsletters Past Alumni Events
Share you RUG experience
Would you like to share your RUG experiences with prospective students? Leave a short review of your study experience!
Become active as an alumnus!
Guide a student
The Faculty of Economics and Business (FEB) is starting a Mentorship Program to connect alumni with current students for career advice. Are you interested in helping students get ready for their career?

Support Science
Interested in supporting RUG research? Pay a visit to www.rugsteunt.nl. and read about ongoing research topics within the University and find a way to support this research and scholars through crowdfunding.
Groningen is one of the coolest small cities in Europe according to Thrillist?
The plans to open a branch campus in Yantai, China are being worked out at the moment? A lot of work has been done, a lot of work has to be done. Most important is the application to start the branch campus which has to be sent to the Chinese ministry of Education. We are working closely together with our partner China Agricultural University and the Dutch Ministry of Education and the NVAO. In the next months important steps have to be taken.
I

nternational students and local Groninger politicians kicked off an experiment to discuss

what the c

ity of Groningen can do to better facilitate its international students?

Read more about it.
An English taught Bachelor's degree in Media Studies starts at the University of Groningen? Read more.

Groningen's football club FC Groningen won the national cup?
| | |
| --- | --- |
| Last modified: | 19 March 2020 10.06 a.m. |