RUG International Alumni Ambassador: Elisa Herbert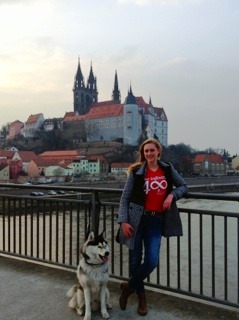 Every year, a group of graduating international students is selected and trained to represent the RUG in their respective home countries. These international alumni ambassadors help us get the 'RUG-word 'out. One of them is Elisa Herbert, a Human Resource Management graduate of 2014 who now works and lives in Dresden.
'As an alumni ambassador I have the possibility to stay connected to the university. I had such a great time at the RUG and enjoyed a complete new way of studying. Studying in the Netherlands meant a new way of structuring my daily life and my work and I learned to be more efficient with my time. Due to my internationally orientated master program, I dealt with a classroom filled with different cultural backgrounds. That, in combination with a lot of group assignments, taught me where my strengths and weaknesses as a team player are.
Moreover, I would like to give something back and share my experiences with a new generation of students. My ambition as an ambassador is to spread awareness about the RUG and its reputation outside of Germany, especially around my region (East Germany). I never had somebody tell me the possibilities of studying abroad and had to figure everything out myself, which took some time! I want to let young students know that there is so much more to do and see than they could ever imagine.
So far as an alumni ambassador, I have visited my old school and introduced the RUG to students aged 18 and 19. I also visited other schools in my region to introduce the RUG to teachers and gave them the possibility to get in contact with me. There has also been an article in the local newspaper about the career event I attended.
The reactions I get from people? Most people are surprised about the academic tradition coming from the north of the Netherlands. There is more to explore than cows, cheese and windmills!"
| | |
| --- | --- |
| Last modified: | 19 March 2020 09.24 a.m. |