Fulbright Fellow Jet Vonk: an interview
After finishing her linguistics studies at the RUG cum laude, alumna Jet Vonk traded in Groningen for New York. Not because of the city as such, but because she wanted to work with authorities in the field of neurolinguistics during her PhD. With the help of the prestigious Fulbright Fellowship and a clear passion for linguistics and higher education, she sets out to shape the future. An interview with Jet Vonk.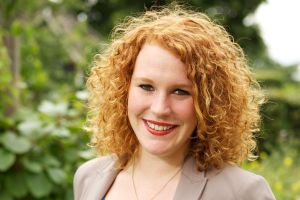 What is your background?

I am a young researcher in Neurolinguistics – a small research field focusing on how language works in the brain, under the umbrella of Cognitive Science. I started out in 2006 with a bachelor in Dutch in Groningen, thinking I wanted to be a journalist. However, soon I learned about Neurolinguistics through a Minor. It inspired me to also complete a bachelor in Linguistics, which got me excited about doing research. I was admitted to the Research Master's in Language and Cognition and specialized in Neurolinguistics. During my Master I did a research internship with Dr. Loraine Obler in New York City. That collaboration went so well that she invited me to do my PhD with her.
What does the Fulbright Fellowship mean to you?

The Fulbright Fellowship means the world to me – literally and figuratively. Literally as it has given me the opportunity to move to the United States and do my complete PhD project in New York City. Figuratively, as it opens doors for me that otherwise would have stayed closed. The Fulbright Program is one of the most prestigious scholarships in the United States and a lot of people know about it. It gives you the label of intelligence, future impact, and leadership skills. You meet a lot of interesting and important people because of it, both peers and superiors. The Fulbright Fellowship has given me countless opportunities so far, and continues to do so every day.
What was your education in Groningen like?

My education in Groningen is the foundation of my current work. Groningen largely shaped me into who I am at this point, both scientifically and socially. I owe a lot to Dr. Roel Jonkers, who taught me my very first class back in 2006 and supervised my Master's thesis at the end in 2012. He is the one who first enlightened me about how language can change in people who have dementia – the topic of my PhD research – and the one who got me in contact with Dr. Loraine Obler in New York. But Groningen also had a huge impact on my social life. I was part of several student committees, had an amazing time at Albertus Magnus, and made friends for life in this city.
Why did you choose New York to do you PhD?

I never really specifically chose this city; I am here because I wanted to work with Dr. Loraine Obler, who happened to be in New York. She is an authority in her field and I am learning so much from her. She is the reason I initially came to the Big Apple, though I am obviously not complaining about living in this metropolis. It may sound cliché, but I absolutely love New York.
How do you envisage your future?
There are three things I would like to do. First of all, my ambition is to become a professor myself, so I can do research on language and cognition in Alzheimer's disease and other forms of dementia and teach the future generation of students about it. In addition, I would like to engage people outside of academia in the interesting developments in the field of Cognitive Neuroscience and make them enthusiastic about science. My third objective is to get involved in shaping the future landscape of higher education by taking part in committees and boards. With these three goals in mind, I hope to make a difference someday.
| | |
| --- | --- |
| Last modified: | 19 March 2020 09.46 a.m. |