Prince Ralph Osei
'Moi, met Prince' is how he answers the phone, but his Dutch still needs a bit of work. Only 29 years old, he has already lived on three continents. He came to Europe to see what all the fuss was about. He is the International Alumni Officer at the University of Groningen. An interview with Prince Ralph Osei.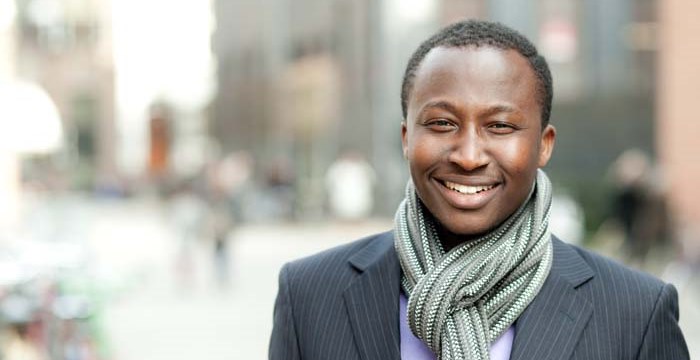 Where do you come from and what brought you to Groningen?
I'm Canadian. I was born in Ghana, and when I was 19 my family relocated to Canada. I studied at Concordia University in Montreal before moving to Groningen. I came here in 2010 to do a Master's degree in Organizational Psychology – I studied Psychology and Political Science. My decision to relocate to Groningen was based entirely on the recommendation of an exchange student from Groningen who was studying in Montreal. I looked up the University of Groningen and the choices offered in Psychology and liked what I saw. I applied and was awarded a Talent Grant by the Faculty. This made it much easier to relocate to the Netherlands.
What is your role within the University?
My main task is to reach out to alumni, be they Dutch or internationals outside the Netherlands. I have several ways of doing this: we send the Worldwide Newsletter to our subscribers four times a year; we communicate with our alumni on Twitter, Facebook and LinkedIn; and we have started forming what we call international chapters. We now have chapters in Zurich, New York, Washington, Singapore and Hong Kong. These alumni groups meet a few times a year and can tap into each other's networks. They hear about what is happening in Groningen and help us by opening up their networks to the University. We also have our international alumni ambassadors' programme, which is very important to us. Just before the international students return to their countries each year, we select a group of about 30 of them and give them the task of spreading the good news about Groningen in their home countries. And last but not least, we travel around the world and hold alumni events, such as receptions, where people can meet each other and we update them on what is happening in Groningen.
How did you get into this work?
It happened by coincidence. At the end of my stay here I was asked to speak about my experience in Groningen at the Summer Ceremony, the farewell ceremony for all graduating international students, unaware that my future boss Tienke Koning was in the room. By the time I had finished the speech I had already received an e-mail from her saying, 'We need to talk'. That was how it all started. I must add that I am very grateful to both my alma mater and employer for giving me my first job after graduating.
Do you think it is important for international students to learn Dutch?
I think that a basic knowledge of Dutch is important for our internationals. They're going to feel more at home if they know the basics of the language, and hopefully more of them will then stay in the Netherlands after their studies. Starting this year, Dutch classes for internationals are part of the programme.
How do you envisage the future of Alumni Relations?
Right now we have about 10,000 alumni abroad and about 70,000 in the Netherlands. There's significant growth ahead of us: our international student population is increasing annually, and more and more Dutch alumni are moving abroad. I strongly believe that the Alumni Relations Office will be doubling its staff numbers over the next 5 to 10 years. The number of international chapters will also increase dramatically. In addition, we are starting to focus our fundraising on the generosity of our alumni and friends. We have started our first crowd-funding project, something that is unique in alumni relations, even at US and UK universities. It has been a big success, and we want to develop it further in the future. Financially speaking, we will try to improve our relationship with alumni and to support our students and professors with scholarships. We would also like our alumni to mentor our students once they enter the professional field.
What will be the main event for you in the coming year?
I think for me the wrap-up will be the Lustrum, the 400th anniversary of the University next year. We are aiming to encourage at least 200 alumni from abroad to return to Groningen for the celebrations. We'll try to do as much as possible to inform people, and look forward to welcoming everyone back again to help the University celebrate. It's not every day that a university turns 400. It's a mega celebration and we want everyone to be part of it!
| | |
| --- | --- |
| Last modified: | 19 March 2020 09.44 a.m. |