In the spotlights: Marjolein Nieboer
The University Library opposite the Academy Building is a familiar sight; a place where we can borrow books or study in peace. This fabulous building will soon undergo a radical facelift. High time for an interview with Marjolein Nieboer, the University Librarian.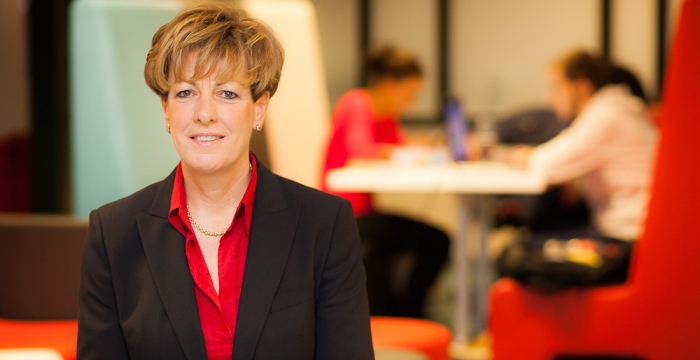 Why does the library need renovating?
The University Library building has been used intensively for almost thirty years. It was completed in 1986, and is now in need of modernization. Over the past years, we have seen an enormous rise in the number of students from in and outside the University of Groningen coming here to study. The Library has also become a popular meeting place. Studying is a social pastime and the Library welcomes many student communities. Students benefit from studying together; working in an academic environment gives them an extra incentive. New regulations, such as the BSA System in which students risk a binding negative study advice if they don't earn enough credit points, mean that their workloads have increased in recent years. High user intensity has made renovation essential.
What will the renovations entail?
The renovations must result in a pleasant and efficient library for both users and employees. Visitors who just come to return a book or for a quick cup of coffee shouldn't have to traipse through the entire building, possibly disturbing people who are trying to study. The new building will provide different noise zones: quiet areas, areas where people can whisper and use computers and areas where total silence must be observed and even laptops are banned. On the other hand, there will be zones where students (tutor groups, for example) can meet to discuss assignments. Facilities with contrasting functions will be separated, such as lending and printing facilities close to quiet areas. The lending service will be moved downstairs, making it handy for people coming to borrow or return a book or wanting to use the self-service. There will also be a coffee corner on the ground floor, which will be ideally situated for a quick cup of coffee and a bun.
What about digitization?
More and more of our services are now available online. Users appreciate this digital content, so we plan to expand it. This applies to buying books too. E-books are already very popular, particularly in the medical-scientific field. We want the entire library to purchase e-books wherever possible. Another trend involves the use of digital archives for storing and providing digital material (journals and the like). This means that some of the physical material can be given away or even disposed of and destroyed. An artist is currently helping us to find a way of transforming much of the superfluous paper collection into a work of art. Or more practically; turning it into desks and chairs. So it won't all be going into the container, although of course some of it will. It has been in use for decades, and in some cases even centuries. The library's stance is now: digital, unless …
Can we expect any more changes?
Yes, loads. Supporting research data and improving the exposure of the University's academic publications has become one of our priorities. It is an important task that highlights our strong points.
In terms of the University Library building, many areas have diffuse and often hard lighting. The total lighting level needs to be subtly improved by introducing more local artificial lighting or making better use of the natural light available. We also plan to amalgamate some of the collections. At the moment, the University of Groningen has a number of libraries so certain specific collections are distributed over several locations. In the new organization, there will be just two locations: the University Library in the city centre and the Zernike Library in the Duisenberg building. In addition, the UMCG will retain its own Central Medical Library. By the way, did you know that the Library has 7.5 km of books in open stacks?
It is a gigantic organization. Can you give us some facts and figures?
I've just looked it up and we're expecting high figures for 2013. We had about 1.6 million visitors this year, which is 100,000 more than in 2012 and 400,000 more than in 2011. This was one of the reasons for the Board of the University deciding to introduce longer opening hours. We are now open until midnight. We are expecting the number of work stations to increase from the current 1,650 to 2,000 in the near future, so we want to be prepared.
What a lot of changes! Did you considering a new building?
No, that was discussed just before this building was built in the early eighties. They looked into whether it would be sensible to build a facility like this in the city centre, where land is so expensive. You mustn't forget the huge depot underneath the building: we have fifty kilometres of storage space. An additional storeroom was built on the Zernike location providing 25 kilometres. But I think we'll need less storage space in the future, thanks to digitization and the opportunity to scan books and journals. Who knows, perhaps we could eventually use the basement of the UL to park all those bikes that are currently crammed onto the Academy Square? I really like the fact that the University Library has been on the same spot throughout its entire history – almost 400 years.
And what about you? Will you stay on as University Librarian until you retire?
I've been here for quite some time. The first twelve years as deputy director, working under my predecessor Alex Klugkist, before becoming director in my own right in 2010. But I can't see myself staying here until I'm 67; that wouldn't be good for me. I'm sure something will come along. But it's not an issue at the moment. I'm in a dynamic environment, where I work with an excellent management team in ever-changing circumstances. What's more, University heritage is a key facet of our work at the moment, and I'm thoroughly enjoying that side of it. We keep abreast of all the latest developments, and that keeps me on my toes!
| | |
| --- | --- |
| Last modified: | 19 March 2020 09.42 a.m. |