Summer Academy on Biotechnology and Society in Africa 2012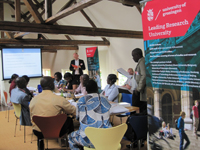 The University of Groningen last week welcomed 16 experts from 10 African countries to the Netherlands for the first Summer Academy on Biotechnology and Society in Africa. The on-going Academy held between 12- 21 June, 2012 will have a broad scope and will address food sovereignty and food security by dealing with biosafety issues. It aims to identify gaps of knowledge with respect to societal and institutional conditions in the African context.
Food security
The question of biotechnology and biosafety is strongly related to the preservation of the earth, her nature and our health. Africa especially faces the challenge of meeting food security as her population has reached the one billion mark. Biotechnology is considered to be a promising technique to contribute to food security and to enlarge the agricultural potential of the continent. However, the introduction of biotechnology must take into account biosafety concerns.
African Biosafety Network of Expertise
Therefore the African Union's strategic framework for socio-economic development NEPAD has established the African Biosafety Network of Expertise (ABNE). Together with Michigan State University (MSU) the aim is to empower African regulators and biosafety institutions by providing science-based information with regard to the introduction and use of genetically modified organisms (GMOs).
Grants
In 2009 and 2010 NEPAD and MSU received a $ 11,2 million grant from the Bill and Melinda Gates Foundation, to strengthen biosafety expertise in Africa as part of the foundation's aim to make African farming more sustainable, health-based, productive and profitable. Future grants would be considered provided that the project would become intercontinental and that an "European voice" would also be articulated.
Working group
The University of Groningen was invited by NEPAD and MSU, to join the ABNE-MSU partnership and to set up a European group of expertise. To establish the foundation for this possible cooperation the University of Groningen initiated a working group called "Biotechnology and Society in Africa" (BSA). On November 21 and 22, 2011, the BSA-group initiated a workshop to learn from external insights and to raise interest among European stakeholders and scientists for cooperation. In addition, ABNE, MSU and RUG have agreed to conclude a tripartite Memorandum of Understanding and to undertake further action.
| | |
| --- | --- |
| Last modified: | 19 March 2020 09.35 a.m. |