Ritwik Swain, the first international student ever in the University Council
An interview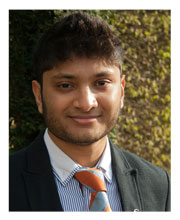 What do you want to achieve with your position in the University Council?
I have many goals with my position.I feel like Groningen has a great international environment but it has the potential to be so much better. I envision Groningen as an international hub of education and research - which will be great for the locals, Dutch people and internationals. In the meetings, I want to contribute views that reflect the needs of internationalisation, so that internationals feel empowered, welcomed and integrated into Groningen.
Other than that, I would really like to work with your Department of Communications. I think the University of Groningen has some great developments down the line such as the App and the new website as well as the recent online magazine - Unifocus. These things are essential to make our university stand out and I would really like to push these developments. Furthermore, I would like to advise the council into offering education that is more interactive, using more modern teaching techniques.
What is it like to be the only English speaking student in the council? Does everybody speak English when you're there, and if so, will they continue to do so or do they expect you to learn Dutch?
This year, I have been in my Faculty's Council where I was the only international student member. The deal is that they still speak in Dutch but I may speak in English. If they are replying to my question, they also switch to English. Things may be different in the University Council. I have spoken to a number of people such as Sibrand Poppema, Elmer Sterken, Hilly Mast and other students in the various factions of all parties and they have all shown a willingness or enthusiasm towards turning the whole meetings into English, especially since that is the agreement in the internationalisation policy of the university.
However, there are some difficulties as some may disagree and also, there might be some legal/contract issues because the clerical staff may not feel capable of switching to English. This topic will be discussed in the University Council meeting on Thursday 28th of June - hearing the outcome of this shall be interesting.
Otherwise, I am already learning Dutch - I am doing "niveau 3" at the Language Centre.
Do you think that you have something extra to add because you're an international student?
As mentioned before, absolutely! Diversity is important in groups to achieve better decisions. I think the current meetings are vulnerable to "groupthink" because they are quite homogeneous (everybody there is Dutch & Caucasian). I have a completely different upbringing to the rest of the members and different ideas and expectations. I expect to change the dynamics of those meetings quite severely in the coming year.
| | |
| --- | --- |
| Last modified: | 17 March 2020 1.43 p.m. |