Festive Meeting European Research Council Laureates 2012 in Groningen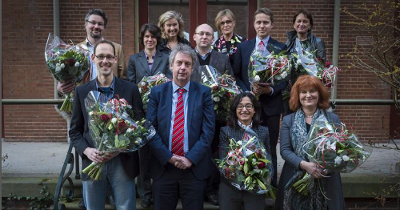 On Thursday 13th of December, European Research Council (ERC) grantees of the University of Groningen and UMCG were put in the limelight. They were welcomed by Prof. Elmer Sterken, Rector Magnificus, and by Prof. Gerrit-Jan Poelarends to the Van Swinderen Huys in Groningen and inaugurated at the University of Groningen ERC Society by Dr Andrey Baryshev and Drs. Neeltje Miedema
The ERC Starting Grant Laureates 2012 are Prof. Dr. Maria Antonietta Loi, Dr. Ming Cao, Dr. Meike Stöhr, Dr. Frank Dekker, Dr. Eugene Berezikov, Dr. Sander van Doornand and Prof. Dr. André Aleman. The ERC Advanced Grants 2012 laureates are Prof. Dr. Raffaella Morganti and Prof. Dr. Cisca Wijmenga. The Starting Grant laureates each receive a budget of about EUR 1.5 million from the ERC for pioneering research that will last about five years. The grant will enable them to conduct independent research with a team that they can form or expand. The winners of an Advanced Grant each receive about EUR 2.5 million.
Support up-and-coming research leaders
ERC Starting Grants aim to support up-and-coming research leaders who are about to establish a proper research team and start conducting independent research. ERC Advanced Grants allow exceptional established researchers of any nationality and age to pursue ground-breaking, high-risk projects that open new directions in their respective research fields or other domains. The Proof of Concept funding helps ERC grant holders bridge the gap between their research and the earliest stage of a marketable innovation.
At the top of the ERC funding list
Since 2007, the University of Groningen has already received over 26 Starting Grants, 6 Advanced Grants and 2 Proof of Concept grants. This ranks the University of Groningen at the top of the ERC funding list in the Netherlands and among the most rewarded universities in Europe.
| | |
| --- | --- |
| Last modified: | 17 March 2020 1.42 p.m. |