Recap of International Alumni Activities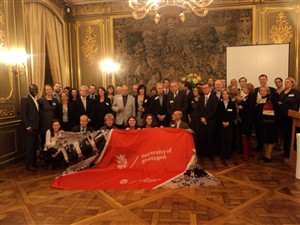 From the Peak of Hong Kong to the mountains of Zurich, this autumn was one of the busiest for our international alumni relations. Our goal of bringing Groningen closer to the homes of our alumni around the world resulted in a myriad of successful events across North and South America, Europe and Asia.
Meeting each other in North America
Our New York City Alumni Chapter led by Chapter President Brunhilde Vergouwen, started the year with its lecture in September on "Regulatory Developments in the Financial sector in the US and Europe", held at the North American headquarters of Rabobank. This was followed by our inaugural Alumni gathering in Zurich in October hosted by Prof. Jan-Egbert Sturm at the premises of ETH Zurich. His excellency Ambassador Twaalfhoven of the Netherlands to Switzerland, guest speaker for the occasion motivated attendees to continue to stay in touch with the Netherlands and their alma mater. Immediately following our Zurich event was our Geneva Alumni gathering on the 1st of November, though it was not massively attended our guests praised the quality of the interaction among alumni.
Events in South America and Asia
Not to be outdone by events in North America and Europe, our alumni in Sao Paulo met the Rector Magnificus Elmer Sterken on his maiden trip to Brazil as part of a Dutch Trade Delegation in November. Similarly, Jakarta was the host of yet another Alumni dinner hosted by staff of the university in Indonesia. Mr. Tjalling Halbertsma, in-coming Chair for East Asian Studies travelled to Hong Kong for the inaugural meeting of our Hong Kong Alumni chapter held at the residence of the Consul General, Mr. Wilfred Mohr, himself a proud alumnus. Yet still in Asia, Mrs. Tienke Koning, Director of the Ubbo Emmius Fonds, travelled to Beijing to meet our alumni and hosted a reception in their honor.
Alumni activities in Europe
In continuing with our momentum in Europe, our alumni in France were treated to an early Sinterklaas celebration in Paris at the residence of His excellency Ed Kronenburg, ambassador of the Netherlands to France. Finally, working with NUFFIC and other Dutch institutions to reach out and engage with our alumni, Germany was a hive of activity in terms of alumni relations. The month of December resulted in the official launch of the Holland Alumni Network across 5 German cities: Berlin, Munich, Frankfurt, Dusseldorf and Hamburg. These events across Germany drew huge attendance from Groningen alumni eager to meet each other and be informed on developments in Groningen.
Most importantly, the autumn of 2012 saw us engage physically with a larger number of alumni and friends of the University of Groningen across the Netherlands and the world. Our heartfelt gratitude to everyone for this unique relationship with Groningen. We look forward to building on this in 2013.
Happy Holidays! Gelukkig kerstfeest! Joyeux Noël! Merry Christmas!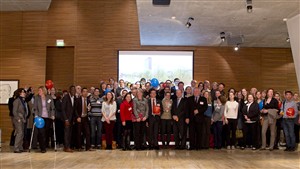 | | |
| --- | --- |
| Last modified: | 17 March 2020 1.41 p.m. |